Malaysiakini

: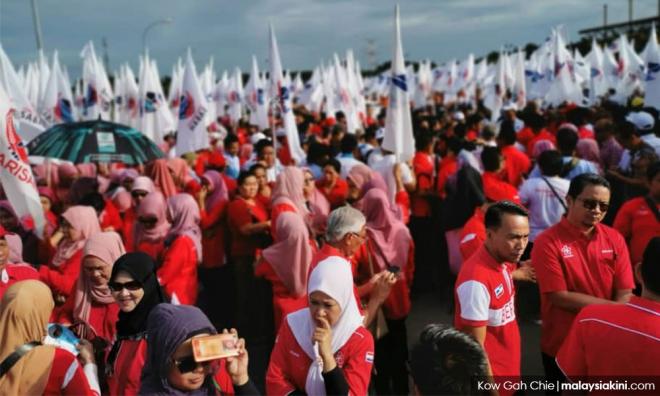 Warisan leader claims members offered projects, positions by Bersatu
A Warisan leader has claimed Bersatu offered Warisan members projects and positions in exchange for quitting the party.
Semporna Warisan information chief Hasbullah Rauddah also
refuted reports
that a slew of branch chiefs recently defected to the ruling party.
In a statement today, he accused Bersatu of "stealing" its members.
"Buying or stealing members is a normal thing in Bersatu's struggle.
"There are Warisan supporters and fighters who admit they were offered projects worth RM1,000 to leave Warisan.
"Some were also offered (positions in) the Community Development Leader Unit (Unit Pemimpin Pembangunan Masyarakat), (to be) village chief and village development and safety committee positions," he claimed.
Hasbullah pointed out that Umno Youth chief Asyraf Wajdi Dusuki had also previously accused Bersatu of "stealing" Umno members.
Malaysiakini has contacted Bersatu for comment.
Yesterday, Bernama reported that 30 Semporna Warisan branch chiefs quit to join Bersatu. The defectors reportedly included Kampung Bangau-Bangau chief Noorasmah Omar and Sri Aman chief Abdul Jal Jayari.
Today, Hasbullah questioned the identity of the 30 chiefs.
"I strongly deny that the individuals who declared themselves as the chiefs of registered Warisan branches (are who they say they are). This is not true," he said.
He said some were former Umno branch chiefs and members. Others simply led "unregistered" chapters or were ordinary members, not chiefs.
Hasbullah added that some of those present at the Bersatu membership form handover ceremony with Semporna Bersatu chief Mohd Daud Tampokong had been "manipulated" to attend the event.
"There are some individuals in the image (of the event) who have admitted that the agenda of that day's meeting was unclear and their attendance was manipulated," he alleged, not offering further details.
Malaysiakini is contacting Hasbullah for more information.