A meeting place to exchange views, no matter how different or diverse these may be. Keeping these civil and courteous would be appreciated
Saturday, October 31, 2020
Malaysiakini

: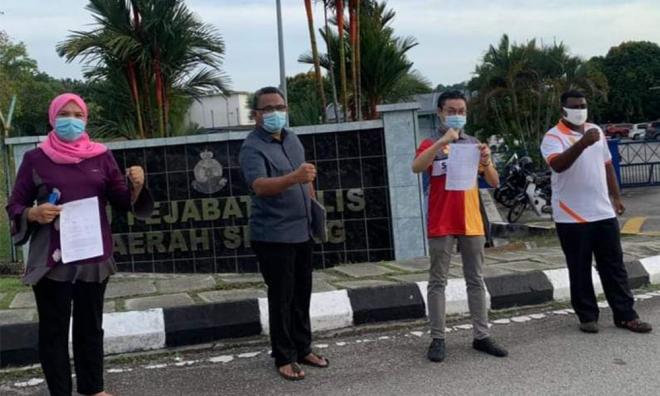 Liu's aide reports Rais for sedition
A police report has been lodged against Dewan Negara president Rais Yatim over an allegedly seditious tweet.
The report was lodged by Rahman Mohamad Saleh, an aide to Sungai Pelek lawmaker Ronnie Liu, who

accused Rais of questioning the decree and wisdom of the Yang di-Pertuan Agong and the Council of Rulers.
Rahman also urged the police to investigate Rais's message to the attorney-general.
"I hope that (the police) will investigate and take action against the author of the tweet and the owner of the Twitter account in accordance with the Sedition Act 1948 and Section 233 of the Communications and Multimedia Act 1998," Rahman said.
On Oct 26, Rais tweeted his appreciation for the Agong's recent decree for everyone to put aside their differences and help the government's effort to deal with the Covid-19 pandemic.
However, he also alleged that part of the Agong's decree had "violated" Article 40(1A) which states that the Agong has to act on the advice of the executive.
"Why didn't the attorney-general (advise His Majesty) that there is a mandatory requirement under Article 40 that has been cast aside?
"Isn't this the core of constitutional monarchy?" asked Rais.
Baik sekali hebahan nasihat Tuanku


YDA ini. Cuma satu perkara amat penting dari segi Per 40(1A) Perlembagaan telah tercabul. Kenapa Peguam Negara tidak menimbulkan bahawa peruntukan mandatori Per 40 telah dketepikan? Ini kan tonggak Raja Berperlembagaan? pic.twitter.com/gT3Hy8Nfd9— RAISYATIM (@DrRaisYatim) October 26, 2020
Although Rais didn't make it clear, it was likely that he was referring to the Agong's decision to not accede to the executive's request for a proclamation of emergency.
While Putrajaya has not made clear its reasons for such a proclamation, some government officials have stated that it was solely to prevent Parliament from convening next month and limit political activities.
Budget 2021 will be tabled on Nov 6, and the first round of voting on the bill will be held on Nov 17.
Incidentally, Liu was called for questioning by the police on Wednesday for four hours over his
Facebook post
regarding ongoing street protests in Bangkok.
MM Online (extracts):
Najib's support for Anwar: No permanent foes in politics, it's all strategy for survival, say analysts
Universiti Sains Malaysia's Prof Sivamurugan Pandian said Najib's proposal has already somehow affected Anwar's relationship with his DAP allies.

He said the Port Dickson MP is a strategist who has made unlikely parties into allies in the past.

He recalled how Anwar who was leading the now-defunct Pakatan Rakyat, got DAP to work alongside Islamist party PAS.

"This is because they have been consistent about not working with Umno. In fact, some leaders questioned why Anwar wants to work with Umno.


"But Anwar himself is a strategist who managed to bring DAP and PKR to work with PAS and later with Parti Pribumi Bersatu Malaysia. Although Najib knows many will not accept his suggestion which was rejected by Datuk Seri Hishamuddin Hussein and Khairy Jamaluddin earlier, he still brought it to the drawing board," he said.

Anwar had on September 23 claimed that he had enough support from MPs in the Dewan Rakyat to form a new government, although he did not disclose who these MPs were at the time.

Anwar subsequently had an audience with the Yang di-Pertuan Agong on October 13 to discuss the matter, details of which he has also declined to reveal to the public.

Universiti Putra Malaysia's Prof Jayum A. Jawan also concurred that the move by Najib is a strategy, adding that it is a mere matter of offers and counteroffers between individuals and political parties.

"This is to strike out a coalition, due to the political instability resulting from a lack of an absolute majority or dominance by any single party.

"This possible changing in the coalition will dominate Malaysian politics till the next general election," he told Malay Mail.

Universiti Teknologi Malaysia's Prof Mazlan Ali said co-operation between PKR and Umno can possibly work out.

"I see Anwar as someone who is pragmatic, who can adapt to any situation that arises. So when Najib makes this offer, it is something to be deeply considered by Umno's leadership.

"This is especially when they are reviewing whether to still be a part of PN and its attendant benefits as part of the government. However, the long-term survival of Umno is under threat, so long as they remain a part of PN," he said.

The recent Sabah state election is a good indicator of this, Mazlan said. He explained that it clearly demonstrated that Umno and Bersatu are rivals for the same constituents and segments of the population.

"Umno lost power in Sabah to Bersatu, so it is not altogether impossible that they could end up losing power in the peninsula as well someday. So now, they are considering other alternatives.

"PKR's primary appeal is due to it being a predominantly urban-based party, which is safe since there is no conflict or as little as possible for Umno, whose main base of support is the Malay heartland," he said.

As for DAP, Mazlan said the party has once claimed it is willing to work with anyone for the sake of the country. In the event of a PKR-Umno co-operation, he believes they will support Anwar in forming the new government but take no part in it themselves.

"In my view, DAP tends to stick to their guns and be firm in their principles, so they will not co-operate with Umno but continue to support PKR.

"This is not the first time DAP has displayed political flexibility. In 1987, at the height of the spat between Dr Mahathir and Tan Sri Tengku Razaleigh Hamzah, DAP gave some measure of support to Razaleigh's Parti Melayu Semangat 46," he said.

Similarly, Mazlan does not believe that Anwar will simply abandon DAP, and vice-versa, due to old ties.

"Admittedly, if PKR chooses to co-operate with Umno, there will be a backlash. But it is likely that should Anwar become prime minister, he will implement reforms which over time will bring more support than what was lost, in addition to further support from other parties," he said.
Friday, October 30, 2020
Malaysiakini

: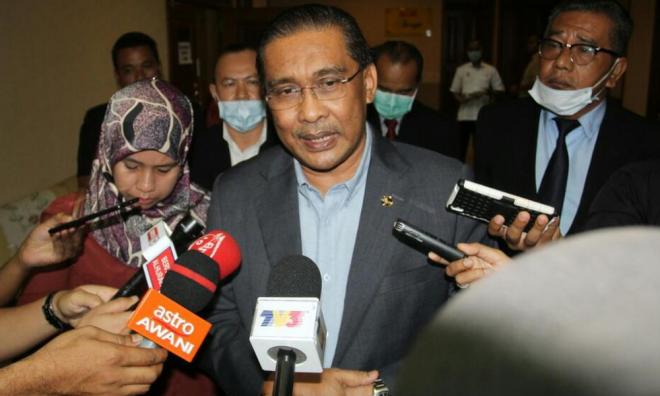 So PAS is okay with ousting 'His Majesty's govt' in February?
YOURSAY | 'PAS should accept other people doing the same as they did.'
PAS calls for 'His Majesty's government' to unite
IndigoTrout2522: Much of today's problems would not have happened if then prime minister Dr Mahathir Mohamad had responsibly kept his promise to follow the mandate in GE14.
Instead, he resigned and tried to remain as PM with the absolute power to select any MPs, regardless of parties, he wanted to serve in his cabinet. When his plot failed, he lost power and position.

He was just too selfish and power-greedy.
Secondly, if Prime Minister Muhyiddin Yassin had agreed to a vote of confidence in Parliament soon after he assumed the position, we would not be having this instability, uncertainty and chaos. Are power and position so important to these politicians?
Now, opposition leader Anwar Ibrahim is accused of trying to restore the GE14 mandate in the midst of a pandemic. What about Muhyiddin? Did he, Azmin Ali and their allies care about the pandemic when it was beginning to spread in February/March?
The situation now is so muddy. Umno, PAS, Bersatu and PKR are all trying to get the upper hand. The end loser is the rakyat, but unfortunately, this situation needs to be resolved for the country to move forward.
One other final point is that Malaysia has a constitutional monarchy, not an absolute monarchy. The yang di-Pertuan Agong has to follow the Constitution. Even if Anwar has the majority, Muhyiddin does not have to resign until he loses a vote of no-confidence in Parliament.
Of course, with a slim majority of only three, the government would not be stable or functional. Hopefully, these leaders can come to a consensus.
Sayonara MY: The bad blood between Umno and Bersatu has gone too far for them to reconcile. Very soon, PAS will also be in Umno's bad books.
The way it's going, there will never be peace among these parties. It's only a matter of time they will break up. While all these tugs-of-war are going on, the rakyat are the ones who will suffer.
GPS is the only one that can save the day. If they align themselves to Pakatan Harapan, at least a proper government can be formed to run the country till the next election. Then the mandate goes back to the people.
Heron: If the present government had taken, considering the circumstances of its ascension to power, a vote of confidence motion at its first inaugural secession of Parliament, the prevailing disquiet concerning its present status would not arise.
It was quite beholden, some think, on Muhyiddin to have effected a timely vote. He disappointed many. As it is often said, "let no man trust in blind prosperity".
Omar Iz: PAS secretary-general Takiyuddin Hassan makes it sound as if his party has many seats. They don't. They are part of a coalition of losers and those who jumped ship for God-knows-what reason.
Collectively, they have, at best, a three-member majority in Parliament; and, they are shaky from conception.
Here's the thing. One could ruin a coalition through deceit, but could deception be the tie that binds? Nope! Let's wake up to this reality.
Coward: Takiyuddin can only say entrusted by the king because he knows he cannot say entrusted by the electorate because he does not have it. So, was he saying the electorate didn't count? That's a bankrupt argument.
Here, you see a sleight of hand and

an attempt to play the royalty card

. Anwar's move, even if he ultimately fails to achieve his aim, has been successful in making clear the divisions within the ruling coalition.
Apanakdikato: Well, Takiyuddin, this country belongs to the rakyat, not to any particular person of your liking.
Tell us, Takiyuddin, which part of the Constitution says that the law does not apply equally to PAS, such that an ordinary citizen who breaches the movement control order (MCO) rules goes to jail, but the same does not apply to PAS politicians?
Tell us, Takiyuddin, which part of the Constitution allows PAS politicians to belittle people of other faiths and race, and get away with it?
Tell us, Takiyuddin, which part of the Constitution says that only people coming from your own religious group can lead the country,

even when they are incompetent and corrupt to the core?
By the way, why are PAS leaders so fond of buying luxury cars and goods made by Christian countries? PAS is nothing more than a parasite party full of hypocrites.
Newday: Takiyuddin, we do not have peace and harmony when there is one rule for politicians and the rest of us actually have to obey the law.
You elevate yourselves above us and make heroes out of your own when they broke the law.

You prefer a system where elections do not happen. Democracy and you do not mix.
Every day, that tenuous federal floor rug is inching closer to being pulled out from under you and your power-mad cohorts. May the rug be completely yanked out.
Capo: Indeed, the Harapan government was also entrusted by the previous Agong to form "His Majesty's government"
Why is it all right to collapse "His Majesty's government" in February this year but not now? Malaysia practices constitutional monarchy, meaning we have a Parliament.
If a sitting PM loses majority support in Parliament, it's the duty of the Agong to appoint a new prime minister. Plain and simple. Get a taste of your own medicine.
Léon Moch: Every government formed is "His Majesty's government", including the Harapan government PAS helped topple.
So,

if PAS felt it was fine to topple His Majesty's government a few months ago, then PAS should accept other people doing the same as they did.
BrownRabbit6629: When Harapan was in power, PAS did not talk about unity but instead resorted to race and religion to create hatred among the rakyat.
After they conspired and brought down the previous government via the backdoor, the same leaders now talk about unity.
Obviously,

these PAS leaders, after gaining positions, are too worried to lose them should a new government be formed.
Thursday, October 29, 2020
Yesterday I posted

Anwar Ibrahim correctly chided France's Macron on 'Freedom of Expression'

, which was about the sad tragedy of a French teacher, Monsieur Samuel Paty, who was decapitated by a crazy Chechen terrorist because he considered Paty had blasphemed against his prophet for showing his class caricatures of Prophet Muhammad in various obscene scenarios as training aid to his teaching of 'freedom of expression'.
Naturally French President Emmanuel Macron was livid with rage over the horrendous crime but alas, according to

TRTWorld

, Macron went about ...
amplifying ad nauseam a crude Islamophobic discourse that creates the impression that France is at the risk of losing its identity and future to alleged Islamist forces.

The gruesome murder of a 47-year-old history teacher, Samuel Paty, gave Macron the perfect opportunity to use this strategy. Macron stated that "he was killed because the Islamists want our future. They know that with quiet heroes like him, they will never have it."

Regardless of how some circumstances surrounding the crime remain to be elucidated,

Macron chose to double down on the anti-Islam discourse

. He swiftly singled out an entire religion and proposed a bill that proposes policing this religion under the guise of national security.
In political reality, Macron was attempting to exploit
anti-Muslim bigotry to bolster his own political ratings.
His low approval ratings and his fear of not being re-elected had led him to adopt such a drastic anti-Muslim campaign which he hoped would make him popular again and distract French voters to overlook the nation's current problems - sounds familiar?
News report tells us that
in September 2020, an IPSOS opinion poll revealed that the French population has a pessimistic view of France under the Macron presidency – 78% of respondents said that France was in decline and 27% of them said that such a decline is irreversible.

When asked about the three main issues preoccupying them individually, the interviewees chose the Covid-19 pandemic, the declining purchasing power, and the future of the social security system, respectively.

The report says the French government has badly handled all three areas. Macron failed to take the necessary decisions to protect the country during the initial stages of the pandemic. His government committed borderline criminal negligence by telling the French people that wearing masks was not necessary.

Such a bungled response, combined with Macron's ill-conceived economic policies, led France into recession mode after witnessing its worst-ever growth slump. Moreover, it is no secret Macron has been trying hard to shake France's social security in favour of neoliberal agendas. However, following several strikes, he was obliged to reverse course. Against this backdrop, Macron became the least popular French President ever.

That explains Macron's deliberate anti-Islamic campaign which resulted in the Islamic World including our own Anwar Ibrahim (
coincidentally a close matey of Recep Tayyip
Erdogen) chiding Macron, saying
"
Freedom of speech is an essential value of Islam and the Muslim world does not need any more lectures about its significance, least of all from those who suffer from Islamophobia."
Of course Anwar has to say that for three reasons, to wit, (1) as a Muslim he was motivated to defend his religion against a cynical Islamophobe, and (2) he has an Islamic obligation to support his matey Erdogen, and (3) his own domestic credentials could do with a bit of Islamic burnishing, not the least for his supporters.
No one at no time accused the French (and especially the Germans under Angela Merkel) of less-than-benevolent treatment of Arabic and North African refugees. That was not the thrust of my post because I am and many others as well are very respectful of European benevolence towards refugees.
My point was about the 'deliberate' choice of some in Europe to

purposely

provoke, rile and abuse Muslim feelings on a virtually non-negotiable highly sensitive topic. To make the issue smacked of hypocrisy and double standards, those culprits dare not touch (and in the same breath, even staunchly and stoutly defend) the sensitivities of the Jews.

I showed examples of obvious overt outrageous European hypocrisy and double standards, especially at the Charlie Hebdo office, where its management sacked those who touched on Jews (or alleged anti-Semitism). I also showed its management possessed pro-Israeli affinity.
But a couple of my visitors (eg. TS) failed to read that (or deliberately ignored those examples), and predictably railed against Muslim ingratitude to European benevolence, and (wakakaka, TS) even managed to drag his political bête noire, the MCA (Malaysian Chinese Association) into alleged disrepute, wakakaka again.
While we lament Samuel Paty's horrific death and condemn his perpetrator, as I mentioned
,
couldn't Teacher (late) Samuel Paty teach that
(subject of 'Freedom of Expression')
, showing how Charlie Hebdo's director the (late) Stephane Charbonnier abused the 'Freedom of Expression' of its cartoonist Siné (Maurice Sinet) by sacking him when he refused then to publish an apology to the (obviously powerful) bridal couple, or how David Irving was jailed in Austria for merely questioning the number of Jews killed in the Holocaust, etc etc.
Why must Monsieur Paty used the fabricated disrespectful caricatures of a religious prophet as his training aid?
Wasn't his actions deliberate, and considered sinister?
But I am aware that there exists amongst non-Muslims a hatred (or at least dislike) of all things Islamic in Malaysia because of the history of local Muslims behaving badly and arrogantly towards, as well as bullying and browbeating local non-Muslims, thus engendering in the nons an anti-Islamic and pro-Israeli mentality a la 'The enemy of my enemy is my friend'.
I also recall an old but erstwhile matey's saying that non-Malaysians should really examine-compare the racist mentality of Israelis with that of UMNO, wakakaka, for they are both the very same, ethnic ketuanan racism (thanks Helen for that memory).
To wit, the Malaysian nons are like the Palestinians, whilst the Ketuanan people are both from the 'Chosen Ones'. Think about that when you railed against Palestinians and bodek the Israelis.

So for my visitors, especially TS (wakakaka), if you have any self respect for honesty and integrity, please ask: Why must Samuel Paty picked obscene disrespectful caricatures of Prophet Muhammad (swt) to teach 'Freedom of Expression' when he had several dozens alternatives, eg. the unjust sacking of cartoonist Siné (Maurice Sinet) and journalist Mona Chollet by the very hypocritical Charlie Hebdo, self-claimed paragon of 'Freedom of Expression' when its management couldn't even practise what it atrociously and brazenly claims to preach.