Malaysiakini

: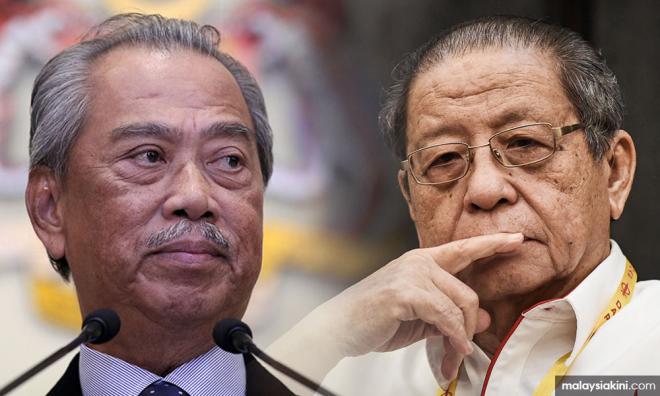 Decade after 'Malay first', Kit Siang asks if PM is now 'Malaysian first'


Iskandar Puteri MP Lim Kit Siang wants to know if Prime Minister Muhyiddin Yassin is prepared to declare that he is "Malaysian first", a decade after the latter declared himself "Malay first".
This was after Muhyiddin yesterday launched the National Unity Policy and National Unity Blueprint 2021-2030.
"When Muhyiddin cautioned Malaysians against politicians who play on racial sentiment to gain political mileage, describing them as challenges faced in multiracial countries, all Malaysian eyes were on him as the classic example.
"After 64 years of nationhood, is Muhyiddin prepared to lead Malaysians throughout the country to declare he is 'Malaysian first' to spearhead the 10-year National Unity Blueprint, where every Malaysian can declare he or she is 'Malaysian first, Malay/Chinese/Indian/Kadazan/Iban second'?" Lim said in a statement.
Lim said on March 18, 2010, he made the same challenge to Muhyiddin, who was at the time the deputy prime minister.
At the time, he noted that then prime minister Najib Abdul Razak's 1Malaysia concept was "the vogue of the day".
"I declared in Parliament that I was Malaysian first and Chinese second and challenged every cabinet minister to make a similar declaration to show that they have the 1Malaysia DNA.
"But no other cabinet minister dared to take up the challenge. Instead, Muhyiddin declared that he was 'Malay first, Malaysian second'.
As usual, Lim Kit Siang stirs provocative sh*t with his meaningless challenges but really, with no expectation of achieving anything for the rakyat other than to glorify himself in Chinese eyes with his useless "Come fight with me" taunts.
Yes, he is nothing more than an opportunistic sh*t-stirrer, knowing full well Muhyiddin has already committed himself to being a 'Malay first'. Did he expect Muhyiddin to respond? Of course not. So why provoke, agitate, rile Muhyiddin for no gain other than crude low class political opportunism? If KHAT wants to claim he is a Malaysian first, and a Chinese when he finally remembers his ancestors, that's jolly good for him, but 'nuff lah of his pompous prancing.
Instead of going around provoking the opposite side, Lim KS should instead resign as he has pledged publicly he would if Mahathir refused to hand over the PM position to Anwar during the reign of the Pakatan government. Everyone in Malaysia and in neighbouring nations know that Mahathir has reneged on his promise to transfer the prime ministerial position to Anwar. So tolong lah, have an iota of integrity and resign and not be like totally untrustworthy Mahathir, though I fear being in bad company, KHAT Sial would have been contaminated - mind you, as a willing captive.
Kit Siang, resign lah as it's your last chance to save your son's face after Chye-Chye's over-glorifying tribute the poor boy had recently paid to you (but expectedly, devoid of your mistakes and 'dark side'). 'Tis your final chance to redeem your once statesman-like personality and to also save your Chye-Chye's face, but alas, based on your performance over the past 5 years, I doubt you will ever do it.