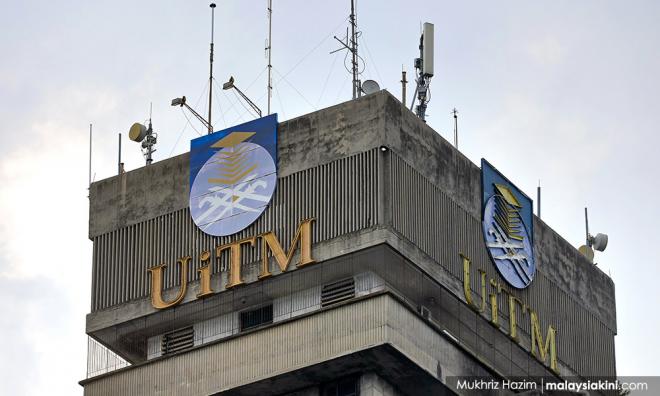 UiTM lecturer accused of sexual grooming, harassment



A foundation lecturer teaching at a Universiti Teknologi Mara (UiTM) campus in Selangor has been accused of sexual grooming and harassment by his former students.

Several victims shared with Malaysiakini their experience with the alleged perpetrator, who is still teaching at the university.

All names have been changed (* is attached) to protect the identities of those involved.

For Sofia*, it seemed like harmless banter at first when she was studying as a foundation student in 2018.

"I never thought he was a sexual predator because he has approached me since my first semester.

"He said he was in love with me.

"I ignored (it) at first and really thought that he (possibly had) a crush on me," she revealed, adding that she refused to play along with any advances he had made.

"I was so confused because he would act innocent with me and my friends in class, but on WhatsApp, he was a totally different person," she added.

She also said that he would ask her out on dates and buy her gifts despite him being engaged to another woman at the time.

Sofia said she only knew he wasn't sincere after she befriended Farah* who revealed that the alleged perpetrator had also expressed his feelings for her.

Farah told Malaysiakini that she never questioned the lecturer's intentions until recently, as he was her mentor and that they had a close relationship.

In the screenshots she posted on Twitter, the lecturer, who is in his 30s, had told Farah that he secretly admired her during the semester he was her mentor.

He also revealed to her that he craved an "adult" type of love that involved more "sin".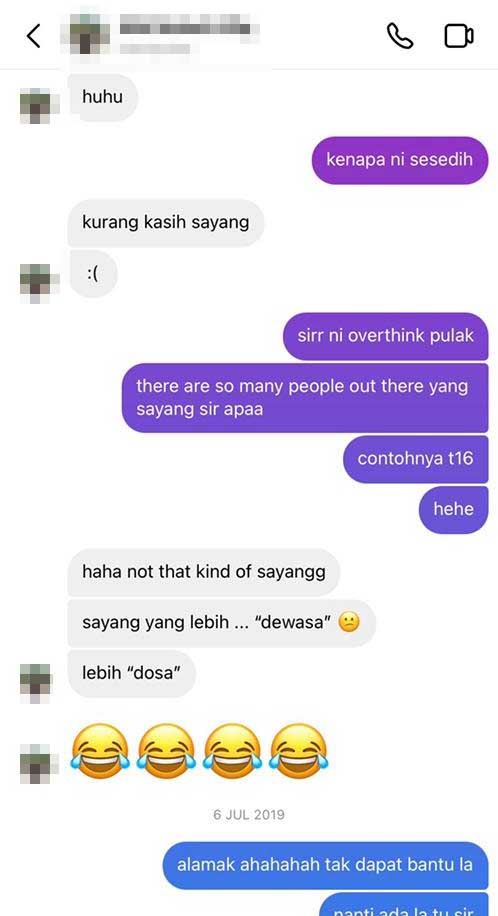 Sofia and Farah were not alone.

In an article reported by Says, 15 victims came forward with personal conversations of the same lecturer making explicit sexual remarks towards them.

Says reported that the alleged perpetrator would generally invite his female students out to dinner or offer them flowers and other items, including lingerie, as gifts.

He even offered to buy condoms for a former student, on her birthday, for her to practice safe sex in the future.

"What brand do you want? But it will be a waste, after one use you cannot use it anymore.

"I will give you lingerie if you let me see you in it," read screenshots from the lecturer that was published in the Says article.

Meanwhile, Azmira* - who studied under the lecturer in 2019 and 2020 - told Malaysiakini that students were asked to send him weekly diaries, where they shared deeply personal matters such as relationships and personal health issues.

She shared a note he wrote in one of her diaries which read: "Boyfriend tak boleh, scandal boleh?" (If I can't be your boyfriend, can I be your scandal?).

She said that she did not realise how creepy the lecturer was until after many girls came out against him on Twitter.

"We - my classmates and I - could not really process it because he acted so kind and caring (towards us), even if it was a facade (that) he created.

"He acted like a father figure (to us), so most of us did not suspect or notice a thing," she said.

The practice of an abuser who builds trust with a vulnerable target in order to exploit them sexually at a later stage is known as grooming.

The practice is commonly associated with adults grooming children for sex, but can also happen between adults.

Grooming of children is a crime in Malaysia, but it is not a specific crime when the victims are adults.

Azmira told Malaysiakini that she initially never would have considered herself to be groomed.

"Who would have thought a grown man in his 30s would be attracted to teenagers?

"Now, maybe yes (I believe it was grooming) because looking at how he was nosy about our personal lives, he might have done that to gain our trust for that reason," she said.

Malaysiakini is attempting to contact the lecturer for a response.

Reporting to authorities

When asked whether they reported his actions to UiTM, all three victims Malaysiakini spoke to said they only realised his intentions after they had left the university.

Both Sofia and Farah said they had no intention of lodging a police report but would come forward if it helps the authorities to take action against him.

Azmira, meanwhile, is considering lodging a report if her family allows it.

However, her previous experience with the authorities on sexual harassment has not been positive.

Azmira said she had previously brought up a different matter to the auxiliary police at her UiTM campus but her complaint was dismissed.

She claimed she provided the officers screenshots of a group chat where a few male students made rape jokes and disgusting sexual comments of girls they found on Instagram, including her.

"The officers told me that (it happened) because I did not make my Instagram account private.

"(They said) they could not do anything because there was no direct contact (between me and the male students), but that I could report again if those boys directly harassed me.

She also claimed the auxiliary police told her that such acts were normal for boys and that they were probably fooling around.

UiTM head of public relations, media, protocol and event management Nora Noordin chose not to comment when asked about the alleged perpetrator's status at the university.

However, she had told Says that the matter is under investigation.

At the time of writing this article, Nora is yet to respond when asked about the alleged rape jokes made by the UiTM students, as related by Azmira.

Sexual harassment cases in universities have recently been reported by Universiti Malaya (UM) student Soleil Ching* and by several female students at Universiti Sains Malaysia (USM).