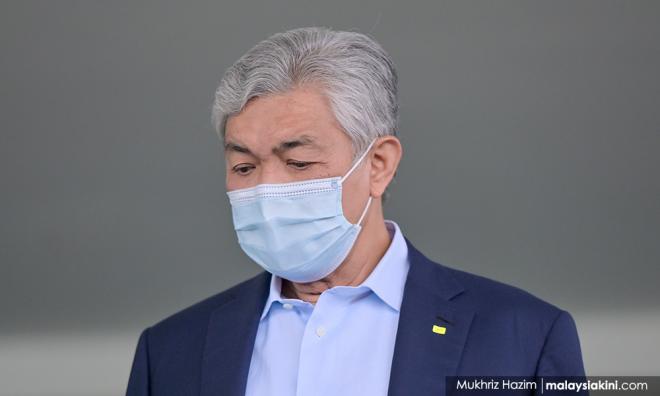 Zahid dismisses Nazri's claim of him losing confidence as 'a cartoon story'



Umno president Ahmad Zahid Hamidi has dismissed the allegation that 25 Umno parliamentarians have lost confidence in him as "nonsense".

He described the allegation brought by Padang Rengas MP Nazri Abdul Aziz as a cartoon story.

"Lost confidence to another MP? That's a cartoon story," Zahid was quoted as saying by Utusan Malaysia today.

Yesterday, Nazri told Malaysiakini that a majority of BN's 42 lawmakers have lost confidence in Zahid, who is the chairperson of the coalition.

He said 25 declarations were signed giving Sembrong MP and BN treasurer-general Hishammuddin Hussein the mandate to speak on behalf of the coalition to the Yang di-Pertuan Agong.

Nazri accused Zahid of giving misleading information to the Agong that BN MPs supported (PKR president) Anwar Ibrahim as prime minister.

He said he lost trust in Zahid after finding out that the king wanted to meet all the party leaders.

In October last year, Zahid allegedly signed a letter to the Yang di-Pertuan Agong pledging support for Anwar.

Zahid's office claimed the letter was fake, but former Umno secretary-general Annuar Musa said otherwise.

The Umno supreme council and general assembly had affirmed the party's stance not to support Anwar as prime minister.

However, speculation is rife that Anwar had submitted to the king a list of 115 MPs who allegedly support his claim to Putrajaya during his meeting with the monarch on June 9.

Hishammuddin's office has denied that the foreign minister wrote a letter to the Agong claiming that he has BN's support to become the new prime minister.