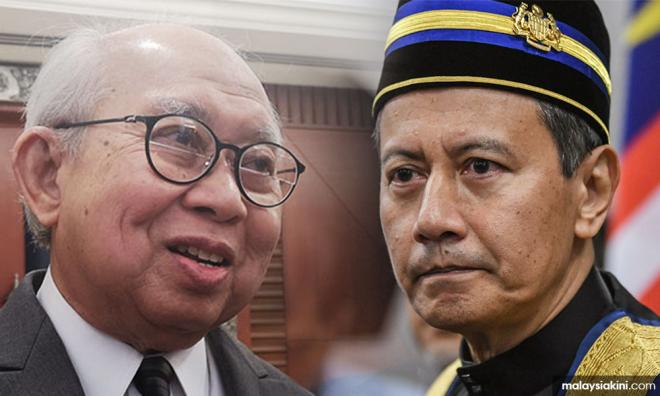 Parliament has 'lost its dignity' because of speaker, claims Ku Li



Umno veteran Tengku Razaleigh Hamzah has urged Dewan Rakyat Speaker Azhar Azizan Harun to carry out his duties according to his oath of office.

The Gua Musang MP said Azhar's "failure" in carrying out his duties had led to the public disrespecting the Parliament institution.

"The primary duty covered by the oath is to ensure the prime minister candidate - the most senior constitutional position with various powers - is supported by the Dewan Rakyat and free from political corruption.

"The current prime minister does not have the Dewan Rakyat mandate to gain the constitutional right to his position," he said.

"The Dewan Rakyat is also not given its right to carry out its constitutional duty to decide whether he (Muhyiddin) has the right to be a prime minister who is free of political corruption," said Tengku Razaleigh in a letter to Azhar which he made public.

Tengku Razaleigh released the letter following Azhar's joint statement with Dewan Negara Speaker Rais Yatim on the reopening of Parliament.

Tengku Razaleigh said Muhyiddin at present does not have the people's mandate to be prime minister.

For the record, Tengku Razaleigh had in the past displayed resistance to support the Bersatu president as prime minister.

The Umno advisory chairperson on March 27 said he did not sign a statutory declaration in support of Muhyiddin as prime minister out of respect for the federal constitution.

Tengku Razaleigh in his letter to Azhar also said motions submitted to the Dewan Rakyat would be deemed useless as the speaker is not carrying out his duties but instead allowed a cabinet minister to decide on whether it would be debated or otherwise.

"This means the duty of a Dewan Rakyat speaker is being ignored and goes against the oath of office.

"So that leads to the party hopping debacle. This situation is an embarrassment to the Dewan Rakyat, as it appears to be ridiculed," he said.