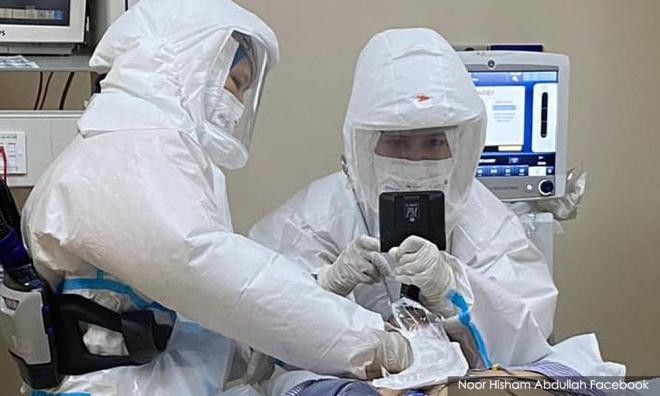 Don't let Hippocratic oath turn into hypocritical oath, rights group tells MOH



Human rights group Pusat Komas has called for transparency on the appointments of permanent medical officers after the Health Ministry (MOH) issued a statement clarifying there are no discriminatory practices involved in the process.

"It is now time for MOH to make transparent the details of the evaluation criteria to ensure that there is no more suspicion of such discriminatory practices," the group said in a statement today in which it reminded the ministry of the nobility of the Hippocratic oath and the upholding of ethical standards.

This comes after MOH secretary-general Mohd Shafiq Abdullah yesterday clarified Health Minister Dr Adham Baba's earlier statement and said all past appointments of medical officers to permanent positions have been based on their merit and performance during their housemanship.

Last week, Adham released a controversial statement saying his ministry took note of suggestions by the Malaysian Public Health Physicians Association (PPPKAM) and Malaysian Muslim Doctors' Organisation (Perdim) to allow more medical graduates "especially among the Bumiputera" to serve in permanent positions to lower unemployment rate in the country's professional field.

Echoing criticism of this suggestion by the Malaysian Medical Association (MMA), Pusat Komas said the appointment of contract officers to permanent service should not involve racial and religious prejudices, and it was appalled by Adham's initial statement.

"Race, religion, ethnicity and gender should not be a criterion to influence any forms of employment opportunities.

"Instead, the talents and capabilities of the person should be the determinant of such appointments," Pusat Komas said in a statement today.

The group said the government has promised to adopt a merit-based approach in its employment process for a long time, but they have yet to see proof of such claims.

"As the health minister, Adham should lead the way to unite all Malaysians by denouncing the call to hire new medical officers along racial lines and not support them," the group said.

Pusat Komas also reminded Adham and others that medical professions are bound by World Medical Association's (WMA) Declaration of Geneva as well as the principles of the Hippocratic Oath.

"Any forms of 'considerations of age, disease or disability, creed, ethnic origin, gender, nationality, political affiliation, race, sexual orientation, social standing or any other factor to intervene' between the physician's duty and their patient are not permitted.



"Don't turn your Hippocratic oath into a hypocritical oath.



"Stop all forms of racial and religious discrimination in Malaysia. The country needs better leadership to serve all Malaysians," the group added.

Additionally, the Malaysian Pharmacist Society (MPS) called for a thorough review and revamp of MOH's contract system to provide more transparency on the evaluation and selection system for contract healthcare professionals in the country.

"MPS would like to highlight that 1,966 contract pharmacists, while given the opportunity to continue serving the country for another year based on the extension announced by the Adham on Feb 25, 2021, were still dismayed over the uncertainties of their future," the group said in a statement.

MPS said its survey on 563 contract pharmacists found many continued to seek clarity in terms of job security as well as transparency on the selection criteria for permanent positions.

Some contract pharmacists who were extended from the original three-year contract cap due to the Covid-19 pandemic are yet to be given equal remuneration as other permanent pharmacists according to MPS, despite having the same years of service and workload.

"The lack of transparency and fairness in how promotions are done needs to be immediately addressed," the group added.