Extracts from
Malaysiakini
:
Yoursay: No one dragging IGP into 'political fight'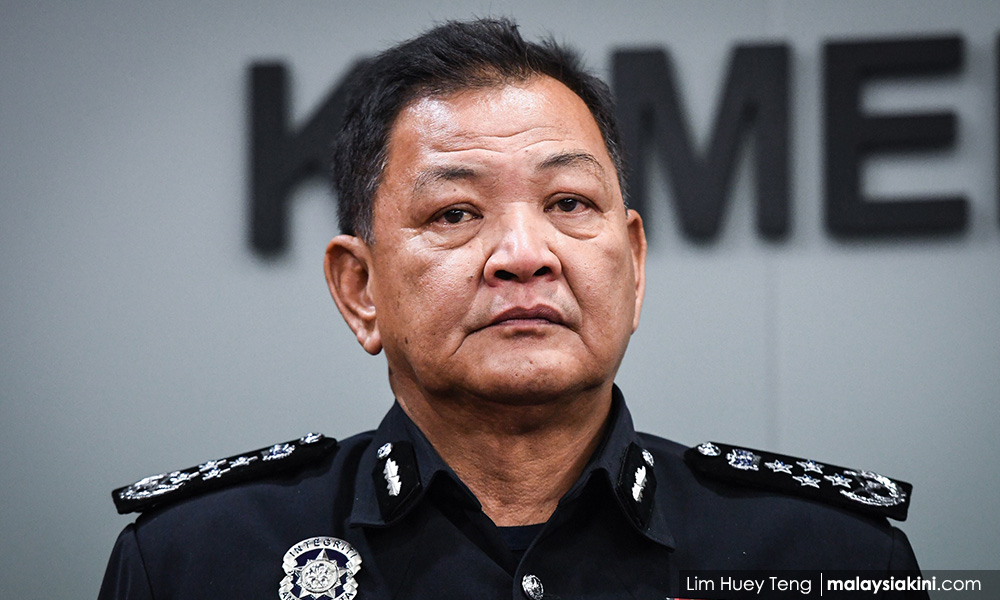 YOURSAY
| 'Just get the internecine PKR warfare in the open and be done with it. We need to move on.'
Prudent:
Inspector-General of Police Abdul Hamid Bador, if you don't want to be dragged into a political fight, please stop making political statements.
And please stop spouting nonsense about not being able to identify the persons in the video.
By refusing to acknowledge this, are you not deliberately lying to the public? And also not doing what your duty – picking up those engaging in the sexual acts shown, as it is a crime under Malaysian law.
Mushiro:
No one dragged the IGP into anything. He himself made more political statements than he did professional statements. He still pretends not to understand the difference.
It is not for Hamid to talk about a "wicked pact (pakatan jahat)" and political conspiracy, claim the leader of a political party is involved, and arrest eight people when not even one of the actors in the sex videos can be identified.
If he has the evidence, just arrest the leader of the party involved.
Capo:
Dear IGP, from your statement we know you are trying to put the blame on Anwar – as per instructions given from above?
If you want to play political games, go into politics. You have been appointed as IGP to serve the nation and its people with utmost integrity and accountability, not dance to Mahathir's whims and fancies.
If the two actors in the video cannot be conclusively identified, then the question of mastermind doesn't even arise. It's a blank, throw it into the dustbin.
Bluemountains:
So far, no one in authority has come out to explain why one of the men shown in the video was arrested, interrogated and sent for medical examination, and the other not arrested, not interrogated and not sent for medical examination.
Isn't that a clear indication that someone at the top is protecting the latter? Is the rule of law that they promised to uphold not meant for those in the corridors of power?
Anonymous_1538808416:
Hamid says investigations into the sex videos reveal that a leader of a political party is the mastermind behind the "wicked pact to embarrass and tarnish the reputation of a certain individual."
A 'leader of a political party' could only be referring to the president or other senior leaders.
Whatever it is, as the prime minister-in-waiting, I don't think Anwar is so stupid to get involved. I am more inclined to believe this is a setup to destabilise PKR and derail the handover of the premiership.
We have seen how Prime Minister Dr Mahathir Mohamad has protected Azmin since the sex scandal broke.
Mahathir loyalist Khairuddin Abu Hassan even made a
police report
to reopen the investigation into Anwar's past sex clips on the pretext of 'defending' him. More like the opposite.
Clearly, this is directed by someone else and aimed to destabilise PKR for good. But the party is already in self-destruct mode anyway.
Quigonbond:
'Political party leader' – there's no need to beat around the bush. If you want to say it's Anwar, just do so.
'Evil conspiracy' – how do you know if the facial recognition came back as uncertain instead of a clear no, and the video is already certified as genuine?
The Home Ministry is under a Bersatu leader. Azmin doesn't even need to feel hot under the collar, since he has such strong support from Bersatu to take Anwar down.
Just get the internecine warfare in the open and be done with it. The nation needs to move on.
P:
Another thought would be that all this drama was not created by Harapan themselves. No, not Mahathir for Bersatu or his son, and not Anwar wanting to become prime minister. What if it came from the other side?
Who else would want Harapan to implode? Umno and Low Taek Jho, who is still in hiding waiting for 'Bossku' to take back the premiership?
Caripasal:
Does the IGP really think that people would believe him when he says "failed facial identity"?