Malaysiakini: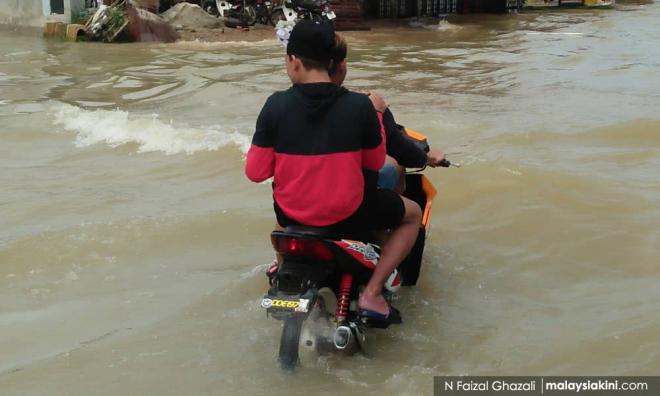 Flood situation remains unchanged in Kelantan, Terengganu
The flood situation on the east coast of the peninsula remained unchanged this morning.
This reminds me of an incident 6 years ago ...


... when in 2014 Nik Mohamad Abduh Nik Abdul Aziz (son of allahyarham Pak Haji Nik Aziz) wrote in his Facebook page, which was duly reported in a couple of Malaysian news portals, that the floods in Kelantan then were intended to remind Muslims to return to Allah's path, and of the necessity in implementing the Islamic penal code in the state.
That moron (wakakaka) remarked:
"The flood is a reminder to all Muslims to return to Allah's ways and stay away from His wrath.

"It necessitates the perseverance of the Kelantan government to implement hudud laws."
But why do I call him a moron for relaying to us the wrath of Allah swt in His Divine manifestation of anger at Kelantanese, Terengganuans, Perlis-ians and Pahangites by flooding their states, where tens of thousands of the suffering rakyat in those states, mainly Muslims, had to be evacuated from their homes due to the frightening deluge in their regions.

not quite like his father, wakakaka, in fact far from being the clone of the illustrious allahyarhum Nik Aziz
Yes sir, only a moron like the dear Yang Berhormat at that distressful natural-disaster moment provided us with his most halal opinion that Allah swt was very angry (wrathful) with the mainly Muslim Malaysians in Kelantan, Terengganu, Perlis and Pahang.
Only non-morons, unlike moronic Nik Abduh, knew the Muslims in those states, especially in Kelantan and Terengganu, had been the most pious Muslims in support of Hadi Awang and PAS and their UUD355.
Thus Nik Abduh flabbergasted us with his warning to them that
"the flood is a reminder to all Muslims to return to Allah's ways and stay away from His wrath"
when those very pious Muslims never did wander away from His Divine path.
Perhaps their only and very itsy bitsy teeny weeny 'sin' was to listen gullibly to the ulamaks of those states, who like Nik Abduh, acted (most blasphemously) at times as if they have a direct telephone line to Allah swt.
To recapitulate, based on Nik Abduh's most halal advice, Allah swt wrecked His Divine punishment on very pious Muslim (but deemed 'wayward' by the moron) in Kelantan and Terengganu by sending the devastating floods.
Sadly several Muslims in Kelantan and Terengganu perished in that 2014 flood, while more than two hundred thousands (200,000+) in the East Coast were forced to evacuate their flooded homes.
But I wondered and still do, why was it, as per Nik Abduh's warning statements above (in his Facebook page), that Allah swt targeted mainly pious Muslim supporters of PAS' avowed intention to implement hudud?
Would Nik Abduh come up with the highly-used-by-Christian piece of wisdom: that Allah swt acted in His 'mysterious' ways?
Mind, our 'moron' has moron-like (in fact, even worse) colleagues in Kedah, Putrajaya and in Bersatu.