Malaysiakini
:
PKR leaders continue to be absent from meetings chaired by Anwar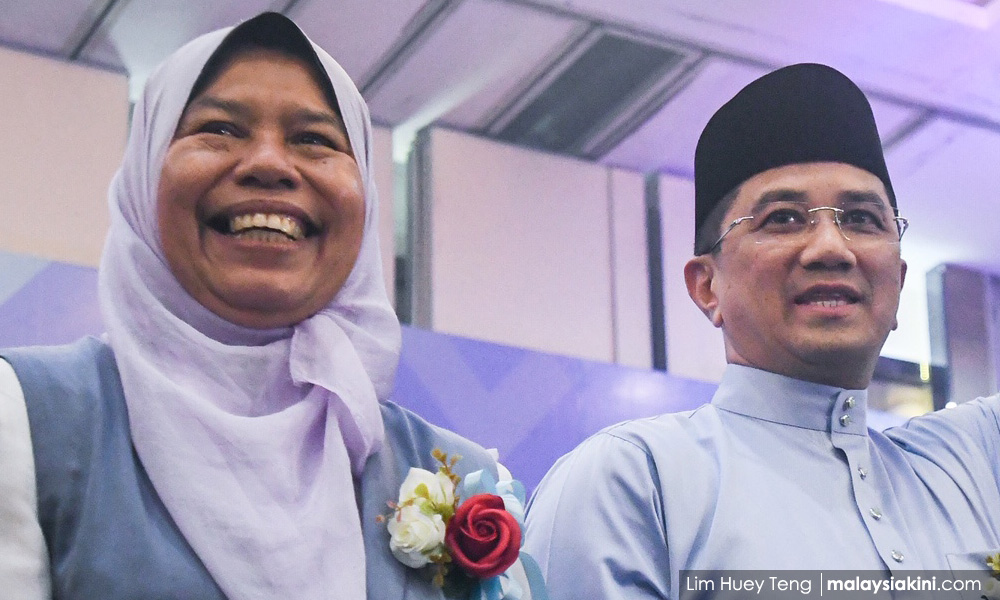 A number of PKR leaders were still absent from party meetings despite a
reminder
issued by party secretary-general Saifuddin Nasution.
The PKR central leadership council held a meeting today, which was chaired by party president Anwar Ibrahim.
Notably absent were, among others, PKR deputy president Azmin Ali, PKR vice-president Zuraida Kamaruddin (above) and Selangor PKR chief Amirudin Shari.
Zuraida, when met at the Selangor PKR Wanita convention in Shah Alam this evening said she had prior engagements.
"I was absent as I had a few programmes and from there I came straight here to officiate the event.
"It is part of my party responsibility to officiate the congress," she told journalists.
Zuraida, who is also the housing and local government minister, said there was no need to magnify her absence.
"My absence is not an issue as I frequently attended the meetings in the past. But after I became a minister there are ministerial duties to handle.
"Give me time to focus on my ministry and once we are stable then, God willing, I will attend the meetings," she said.
Meanwhile, when asked about his absence at the meeting today, Amirudin, who is also Selangor menteri besar, said he had to rush to another function.
His press secretary Mohamed Fareed Mohamed Ashaaree said Amirudin had to officiate a Batu PKR Wanita gathering.
PKR leaders aligned to Azmin have been absent from PKR meetings chaired by Anwar amid a rift between the two men.
*********

kaytee notes:

It's obvious Anwar can't eff-ing touch Azmin and Zuraida for overt insubordination and/or rebellion.

But let's take the example of relatively lowly Selangor MB Amirudin Shari. Was his attendance at the Batu PKR Wanita gathering far more important than a PKR central leadership council meeting?

Mate, Amirudin might have been relatively lowly but he's an Azmin henchman, and Azmin Ali is still under Mahathir's protection - thus Amirudin must have felt protected to pointedly ignore the PKR central leadership council meeting.

T'was obvious the Dökkálfar Dwarfs have been defiantly-arrogantly-insubordinately boycotting/ignoring Anwar Ibrahim.
I wonder how far can they test Anwar's patience and how long will Mr Manmanlai tolerate the disrespect shown?

But in the end, this intra PKR power-personality tussle will only benefit UMNO and PAS, and to lesser extent, Parti Pribumi.

It also eff-ing adds to the increasing political instability in Malaysia.
Anwar must remove Azmin for good.
And Anwar has just been
reported
as saying party deputy Azmin Ali is not immune to disciplinary action, though Manmanlai also said Azmin had informed the party of the reasons for his absence. He added the PKR disciplinary board will verify those reasons.
He added a wee ominously,

"There is indeed a rule that if someone does not attend party meetings for three consecutive times, they would lose their position."
"Sometimes people try to provide reasons, so the disciplinary board need to see if it is true or not."
Speaking at a press conference in Kuala Terengganu, Anwar reiterated that PKR leaders should attend party meetings.
"Tomorrow we have a leadership meeting, monthly meeting and in another week the political bureau meeting. So all leaders are asked to attend."