Hong Kong protests: China envoy says Beijing has 'power to swiftly quell unrest'
China's ambassador to UK Liu Xiaoming also accuses intefering British politicians of 'colonial mindset'
Peter Beaumont
China has issued its most pointed threat yet to pro-democracy protesters in
Hong Kong
, warning that it had "enough solutions and enough power to swiftly quell unrest" should it deem the situation "uncontrollable".
Speaking to international media in London on Thursday, China's veteran ambassador to the UK, Liu Xiaoming, also accused some British politicians of harbouring a "colonial mindset" in their interventions.
Liu's comments came a day after
satellite images showed hundreds of armoured paramilitary police vehicles
parked in a stadium in the southern city of Shenzen, which sits on the Hong Kong border.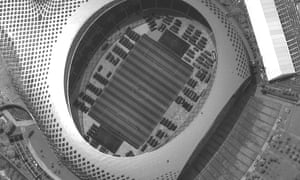 Photograph: SATELLITE IMAGE ©2019 MAXAR TECHNOLOGIES/HANDOUT/EPA
Satellite image shows military and security vehicles massing in the Shenzhen Bay stadium across the border from Hong Kong
Demonstrations in Hong Kong that began 10 weeks ago over opposition to a proposal to allow extraditions to
China
have widened into more comprehensive anti-government protests.
The ambassador accused "extremists" of posing as as pro-democracy activists and said Beijing was not prepared "to sit on its hands and watch".
"We hope this will end in an orderly way. In the meantime we are fully prepared for the worst," he said, warning that the protesters risked dragging the territory into a "dangerous abyss".
Liu also rejected
a tweet from the US president, Donald Trump
, calling on Beijing to treat Hong Kong "humanely" in order to reach a trade deal, insisting that China would not "barter" over Hong Kong.
Declining to speculate on what red line might trigger Chinese intervention, the ambassador reiterated Beijing's warnings that it regarded recent incidents of "radical street protest" – including clashes during an occupation of Hong Kong's airport – as showing signs of "terrorism".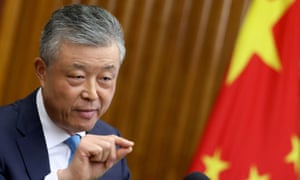 The Chinese ambassador to Britain, Liu Xiaoming, said Beijing was not prepared 'to sit on its hands and watch'

Photograph: Simon Dawson/Reuters
Liu's swipe at UK politicians followed a proposal by the foreign affairs select committee chairman, Tom Tugendhat, to extend UK citizenship rights to Hong Kong Chinese. Communist party-ruled mainland
China took over the former British colony in 1997
under the framework of "one country, two systems", which protesters fear is being eroded.
Liu's remarks followed the recent rebuff to the foreign secretary, Dominic Raab, who was told by Beijing to stop interfering in Hong Kong's affairs.
"Politicians in this country know their body is in the 21st century but their heads are still in the colonial days," Liu said. "They are going to have to change their mindset, put them in the proper position and regard Hong Kong as a part of China, not as a part of the UK."
Referring to the 300,000 UK citizens and thousands of UK businesses in Hong Kong Liu added: "I sincerely hope that people from all walks of life in the UK will have a clear understanding of a big picture, act in the interests of Hong Kong's prosperity and stability, and refrain from saying or doing anything that interferes in Hong Kong's affairs or undermines the rule of law in Hong Kong."
Liu's remarks were made as Hong Kong's government unveiled $2.44bn (£2bn) worth of economic relief measures and downgraded its growth forecasts for the international finance hub reeling from the continuing pro-democracy protests and the US-China trade war.
Although framed as a mini-budget amid economic uncertainty, some analysts saw the move as a sweetener aimed at winning over support from moderate Hong Kongers.
Police made five arrests on Tuesday night and 17 more on Wednesday during clashes outside police stations in the Sham Shui Po district as flights were suspended by mass demonstrations in Hong Kong airport.
China began by censoring all news of the protests, but has in recent days taken to denigrating the protesters as criminals being manipulated by the US, Taiwan and other unnamed foreign powers.
The ambassador accused foreign officials of fomenting unrest by meeting with protest leaders, suggesting the involvement of "dark hands".
The Sino-British Joint Declaration signed in 1984 paved the way for Hong Kong's handover back to China and said the city would enjoy a "high degree of autonomy, except in foreign and defence affairs" and be "vested with executive, legislative and independent judicial power".