Malaysiakini

: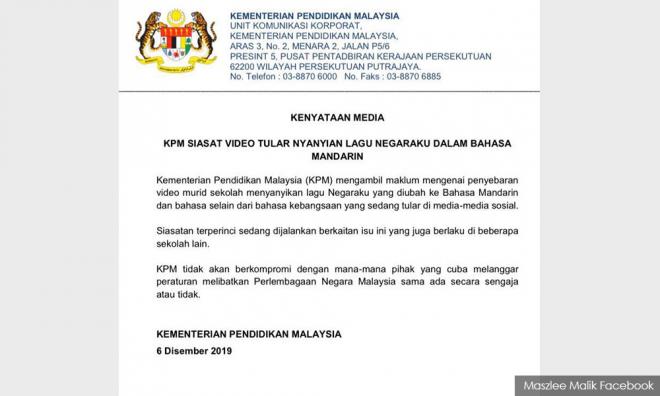 Ministry probing video of pupils singing Negaraku in Mandarin
The Education Ministry is investigating a video, which has gone viral on social media, showing primary school pupils singing the national anthem Negaraku in Mandarin.

In a statement this evening, the ministry warned that it would not compromise with those who violated the Federal Constitution.

"The ministry is aware of the video showing the pupils singing Negaraku, which has been changed into Mandarin and languages other than the national language, which has gone viral on social media.

"A thorough investigation is being carried out in relation to this issue, which has happened in several schools," it added.

Expressing regret over the incident, Bersatu PRIBUMI Youth said a check revealed that apart from Mandarin,

the national anthem was also being sung in the Arabic language

.

The wing's education bureau has filed a police report over this.

Describing it as a treasonous act towards patriotism and nationalism, Bersatu PRIBUMI Youth exco Mohd Ashraf Mustaqim said: "It is clear that the singing of Negaraku either in Mandarin or Arabic is wrong and transgresses the position of Negaraku as the official national anthem through its own language, which is Bahasa Melayu."

[...]

Meanwhile, Malaysiakini learnt that the video recording originated from a Chinese primary school in Seremban, Negeri Sembilan.

It is also understood that the district education department had summoned the headmaster over the matter.

Malaysiakini has contacted the school authorities for comment.

A check revealed that the National Anthem Act 1968 does

not

clearly mention language but includes musical notes and lyrics in Bahasa Melayu.

Whereas, the National Language Act 1963 stipulates that Bahasa Melayu must be used

for official purposes

.
There is no law that says the national anthem,

if and when

sung

outside of official occasions

, need to be in Bahasa Melayu, so why have these hullabaloo been for?
Politicking again?
Outside of official occasions, why would singing the national anthem in any language be deemed a treasonous act?
When an anthem is sung it is an act of respect, love and loyalty to a nation, regardless of the language used, Arabic, Chinese, Tamil or Kadazandusun. In fact, the
act of respect, love and loyalty is much more when people take the trouble to translate Bahasa Melayu into other languages which will help students appreciate the meaning and spirit of the lyrics.
For obvious reason, on official occasions, Bahasa Melayu shall and must be the language used.
It's ridiculous the police is once again being used to investigate into what have been in the main insignificant issues, more so when other pressing matters have not been solved.
No wonder Pastor Koh, Amri Che Mat, and the daughter of Indira Gandhi will never be found by police. Nor will the ID of one of the gay sex couple at a Sandakan hotel be even determined.