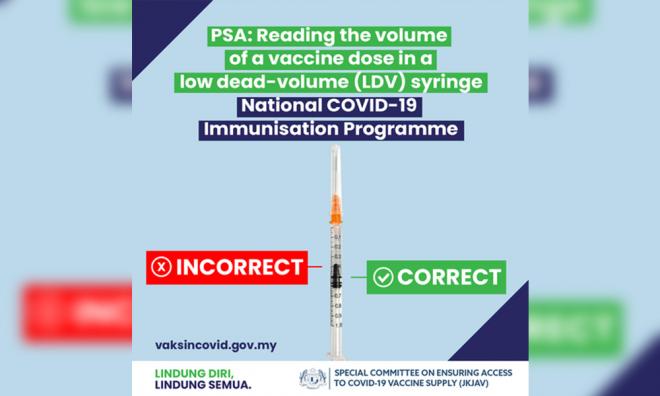 SOPs improved but vaccine underdosing questions still linger

The government has changed its vaccination procedures to address reports that some Covid-19 recipients were given less than the appropriate dosage.

Nevertheless, many questions still linger on how such incidents have transpired and what recourse do vaccine recipients have if they suspect to have been underdosed.

At a press conference today, National Covid-19 Immunisation Programme (NIP) Coordinating Minister Khairy Jamaluddin was asked about the outcome of the investigation on these incidents, what measures are being taken to reassure people who are now second-guessing whether they received the full dosage, and what measures are being taken to ensure these incidents are not repeated.

In response, Khairy said: "What we have done is that we have issued - with immediate effect after the incident was identified - a new SOP, which is that the vaccinator will have to show the person who is being vaccinated the syringe… to show the person being vaccinated that the syringe has been filled to the required quantity based on the vaccine.

"After the vaccine receiver is happy that the syringe contains the required dose amount, then, and only then, can they vaccinate the person. Next (question...)."

The press conference was being conducted online, and at that point of the press conference, each reporter was limited to one question, with no opportunity for follow-up questions.

All journalists at the virtual press conference had their microphones muted by the host of the meeting, except when allowed to pose a question.

In effect, this repeats a directive that has been reported yesterday without shedding more light on the issue or offering reassurance to those who have already been vaccinated but are unsure whether they received the appropriate dose.

Previously, the Covid-19 Immunisation Task Force (CIFT), which Khairy leads, issued a statement last Thursday saying that it is investigating allegations of underdosing by some vaccine recipients, who had been given the AstraZeneca Covid-19 vaccine at World Trade Centre in Kuala Lumpur (WTCKL) on May 19.

Khairy's aide later told Malaysiakini that investigations are still underway and an official statement is expected this week.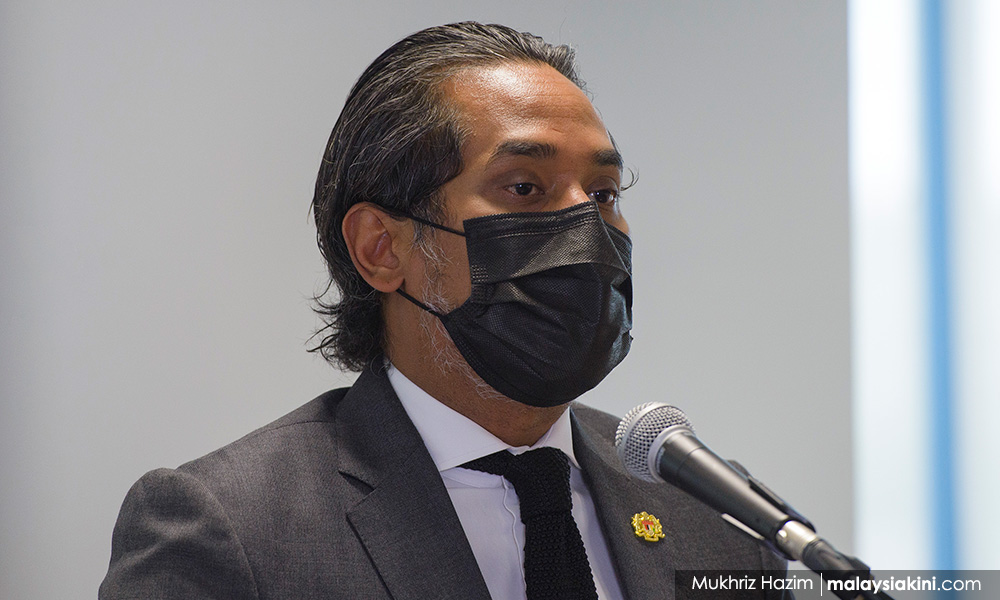 National Covid-19 Immunisation Programme Coordinating Minister Khairy Jamaluddin.
Health Minister Dr Adham Baba did not respond to Malaysiakini's questions on the matter when contacted last week.
A representative from BP Healthcare, which runs the WTCKL vaccine administration centre, directed Malaysiakini's questions to ProtectHealth and CITF.
ProtectHealth is a GLC owned by the Health Ministry that now coordinates the private healthcare sector's involvement in NIP.
The ministry's director-general Dr Noor Hisham Abdullah, who sits on ProtectHealth's board, told Malaysiakini to refer its questions to the Covid-19 Vaccine Supply Access Guarantee Special Committee (JKJAV) or CITF.
JKJAV is co-chaired by Khairy and Adham. CITF is under JKJAV's purview.
Three cases
To date, there are at least three known cases of underdosing. All three involved people who got vaccinated at WTCKL on May 19, recorded their experiences on video and realised they had been underdosed upon reviewing or sharing their videos.
All three have since been given additional doses of the vaccine, and a netizen said those who believe they had been underdosed can
contact ProtectHealth
for redress.
Nevertheless, it is still not known how many people may have been underdosed, and no initiative (such as offering antibody titre tests) has been announced that would allow people to check whether they have received the correct dosage if they didn't record a video of their vaccination.
Such questions appear to be circulating online and some people have even reached out to Malaysiakini on the questions. Also circulating online is speculation on how the underdosing might have occurred.
In the meantime, the JKJAV has published an infographic showing the appropriate method for reading the measurements on a low dead-volume syringe.
It indicates that the reading should be taken from the neck of the rubber seal, rather than from its elongated tip.
For the record, the appropriate dosage for the AstraZeneca's and Sinovac's Covid-19 vaccines are 0.5ml per dose. For Pfizer's vaccine, it's 0.3ml per dose.
JKJAV's infographic shows a 1ml syringe that is filled to 0.5ml.