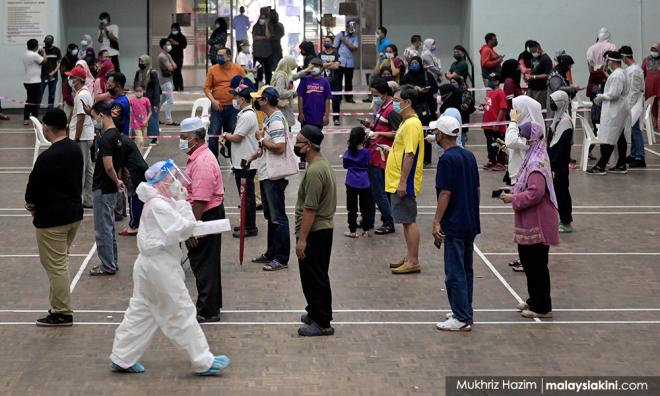 Free Covid-19 testing detects high positive rate in 6 S'gor constituencies



The Selangor government's voluntary Covid-19 testing initiative has detected 1,171 positive cases thus far.

Six areas reported a test positive rate of above five percent.

The World Health Organisation's benchmark for adequate testing is a five percent positive rate. Anything higher indicates there are undetected positive Covid-19 cases in the community and more tests are needed.

The Health Ministry, however, considers 10 percent as the benchmark.

Selangor's testing drive began on May 8 and has since been carried out in 14 state constituencies across Gombak and Hulu Langat.

According to data published by Menteri Besar Amirudin Shari today, the highest positive rate was detected in Gombak Setia (8.24 percent) with 167 positive cases from 2,207 tests.

Kajang was second (8.08 percent), with 85 positive cases from 1,052 tests.

The third-highest positive rate was detected in Hulu Kelang (8.06 percent), with 146 positive cases from 1,811 tests.

The other three areas with positive rates above five percent were Taman Templer (7.99 percent), Bukit Antarabangsa (7.58 percent), and Sungai Tua (5.63 percent).

In total, 19,858 people came forward to get tested.




The Selangor Covid-19 Task Force organised the drive as a proactive detection measure.

It is meant to help trace and isolate more Covid-19 cases, especially asymptomatic "silent carriers" who are unaware they have the virus.

By absolving the costs, it hopes to lower barriers and encourage residents to get tested.

The drive will take place in all 56 Selangor state constituencies before it ends on June 10.

The full schedule of the drive can be found here.

Selangor is the epicentre of the latest Covid-19 wave.

It recorded 2,277 cases as of noon yesterday - far more than any other state and constituting 33 percent of the national daily case count.

Covid-19 deaths in Selangor are also soaring.

This comes as Covid-19 beds and Covid-19 intensive care unit beds in the state are at dangerously low levels.