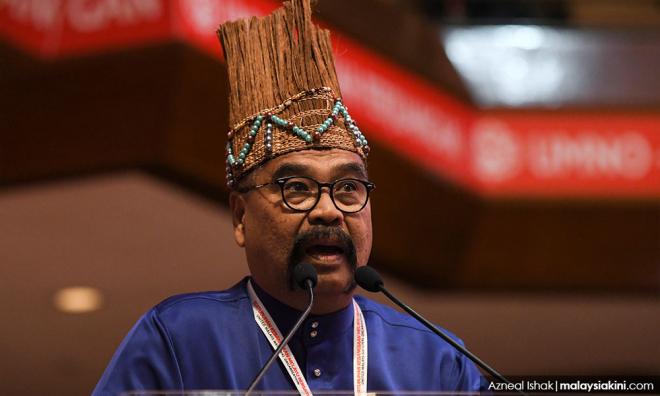 MP claims 'little Napoleons' trying to put non-Orang Asli in charge of Jakoa



A lawmaker claimed today that officers in the Rural Development Ministry are trying to put a non-Orang Asli in charge of the Orang Asli Development Department (Jakoa).

Cameron Highlands MP Ramli Mohd Nor (above), who is an Orang Asli, said it was a practice that priority is given to an Orang Asli to fill the post of Jakoa director-general.

"Information has reached me that there is an effort by officers in the Rural Development Ministry who are putting pieces in place so that the (Jakoa director-general) post is not held by an Orang Asli.

"As the sole Orang Asli MP in Parliament, I condemn and oppose these efforts by bureaucratic little Napoleons in the ministry," he said in a statement.

The lawmaker added that the Federal Constitution enshrines that Orang Asli be allotted suitable positions in the public service. He said this includes the Jakoa director-general's post.

The Jakoa director-general post fell vacant after the last office-bearer's (Juli Edo) contract expired in April.

Yesterday, Rural Development Minister Abdul Latiff Ahmad held a virtual audience with the Yang di-Pertuan Agong to discuss filling up the vacancy.

In a series of tweets yesterday, Latiff said that since 1997, Jakoa had been led by an Orang Asli director-general.

"At the same time, I believe Jakoa should be led by a director-general who is experienced and an expert to spur the future of the Orang Asli to become more developed and modern," he added.

Malaysiakini has contacted Latiff for a response to Ramli's allegations.

Ramli said officers in the Rural Development Ministry should focus on their duties to implement policies.

The Umno lawmaker added that the Perikatan Nasional government should also help to address unresolved development issues affecting Orang Asli communities such as education, health, gazetting of native lands, and welfare.

"These (Orang Asli issues) are left far behind compared to those of other Malaysians," he said.

Meanwhile, Iskandar Puteri MP Lim Kit Siang backed Ramli's call for Jakoa director-general to be appointed from the Orang Asli community.

Lim said any attempt to appoint a non-Orang Asli would be a retrograde step.

"To date, there are too few Orang Asli holding senior positions in Jakoa and indeed in the entire civil service.

"According to a 2018 parliamentary reply, out of a total 998 staff members in Jakoa, only 111 are Orang Asli. Only one is in the 'management and professional' rank, the rest are all supporting/lower rank staff.

"This is most disgraceful and shows the utter failure of Jakoa to represent a vibrant Orang Asli community," said the DAP lawmaker.