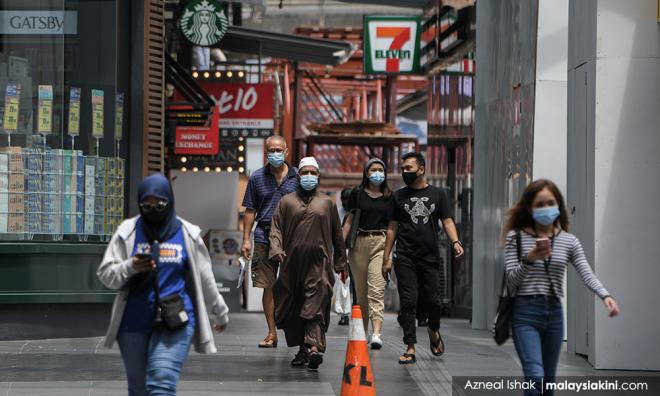 Umno nudges Muhyiddin towards 'total lockdown'

Two key Umno figures have suggested that Putrajaya should consider "total lockdown" in dealing with the Covid-19 pandemic which has worsened in recent weeks.

Umno Youth proposed that this measure should be undertaken for 21 days, with special financial aid for the people.

"Prepare special measures for the period - i-Sinar 2.0, i-Lestari 2.0 and a three-month bank loan moratorium period without extra charges," said Umno Youth chief Asyraf Wajdi Dusuki.

Asyraf said Putrajaya should take heed of Johor ruler Sultan Ibrahim Sultan Iskandar who urged the public to stay at home where possible.

"Let's bear with short-term pain rather than long-term suffering," he said in a statement.

Although most of Malaysia is under movement control order (MCO) restrictions, it is not as strict as what was imposed in March and April last year, which mandated that most businesses remain close to force people to stay at home.

The current MCO, dubbed as MCO 3.0, started on May 12. After 16 days, there are no signs that it is working as Covid-19 deaths and those in intensive care units continue to rise.

Need to save lives

Meanwhile, Umno information chief Shahril Hamdan said in a video statement on his Facebook page that the government should worry more about lives than incurring a bigger deficit.

"The government always reminds us that 'total lockdown' will cost the country RM2.4 billion every day as what we saw (in March and April last year).

"If the government can forget about GDP growth temporarily, while (implementing measures to) protect jobs and a 'total lockdown', wouldn't that be better (for the public)?

"To me, the government is too scared of a deficit, too scared of facing debts and hence they don't want a 'total lockdown'," he said.

Shahril said no country in the world would prioritise their deficit levels over the needs of the country.

"The whole world is in crisis... our obsession with GDP and deficit should be forgotten (temporarily).

"I am confident that the rakyat understand the need to balance the economy and saving lives. Saving the economy alone while Covid-19 numbers increase serves no purpose," he said.