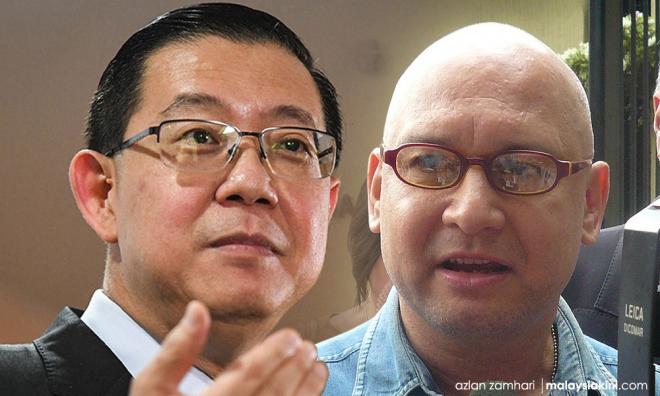 Guan Eng awarded RM600k in defamation suit against Raja Petra

Former finance minister Lim Guan Eng today was awarded RM600,000 in damages in his defamation suit against blogger Raja Petra Kamaruddin over 10 articles regarding the RM6.3 billion Penang undersea tunnel project.

Kuala Lumpur High Court judicial commissioner Mohd Arief Emran Arifin also ordered Raja Petra to pay RM10,000 in costs to Lim.

Today was fixed for a decision on damages in relation to the defamation action, where the plaintiff had earlier sought RM20 million.

Previously on Feb 28 last year, the High Court granted a judgment in default (JID) to Lim, who is Bagan MP.

Under the law, a plaintiff may apply for JID if the defendant has failed to make an appearance in the civil action proceedings, despite proper service of cause papers.

Lim's lawyer Simon Murali today confirmed that Arief set the quantum of damages at RM600,000.

"The defendant is to pay RM600,000 to the plaintiff as general and aggravated damages. The defendant is also to pay RM10,000 in costs," Murali said when contacted this afternoon.

The lawyer added that the court also ordered Raja Petra to pay five percent interest on the damages awarded from the date of filing of the suit (Sept 6, 2019) until the date of full settlement.

"We are awaiting instructions from the client (Lim)," Murali said in regard to what is the next course of action the plaintiff would take to enforce the quantum of damages against Raja Petra.


On Sept 6, 2019, Lim's legal team from Messrs Simon Murali & Co filed the writ of summons, naming Raja Petra as the sole defendant.

The former Penang chief minister sued the blogger over a series of "From the MACC Files" articles carried on the online news portal Malaysia Today, in both English and Bahasa Malaysia versions, between Feb 24 to March 15.

The purported defamatory articles are in regard to the MACC investigation into the issue of alleged corruption in the ambitious infrastructure project.

Lim is also currently facing a corruption case set to go for a trial at the Kuala Lumpur Sessions Court beginning June 8, in relation to the construction of the under tunnel project in Penang.