From
Malaysiakini
:
'No confidence vote against Dr M' claim crafted by sinister minds – Kit Siang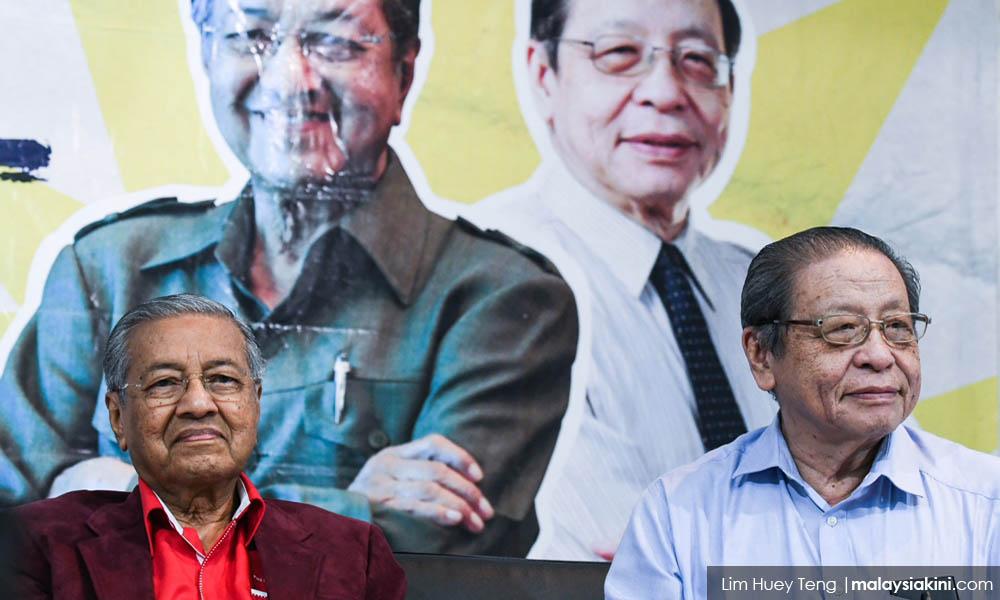 Sinister conspirators and cybertroopers are working overtime to churn out lies and falsehoods, according to Lim Kit Siang.
Among them, he said, is that a motion of no confidence would be moved against Prime Minister Dr Mahathir Mohamad during the next Parliament meeting from July 1-18.
"As next month will prove, this motion of no confidence against Mahathir is only the creation of the fevered imagination of sinister conspirators and cybertroopers," he added in a statement this afternoon.
Although the DAP veteran did not mention names, it is believed that he was responding to blogger Raja Petra Kamaruddin, who claimed that Anwar Ibrahim had the numbers to oust Mahathir.
Quoting sources from Anwar's camp, the blogger said the PKR president has the support of at least 37 of the MPs from Sabah and Sarawak and another 103 from Peninsular Malaysia whereas Mahathir has only 40 seats in total with 42 abstentions.
"Parliament will be sitting soon and if Anwar does not make his move, then that would mean he is never going to be the next prime minister.
"Mahathir has about two weeks to decide what he is going to do unless he wishes to throw in the towel and call it a day. As it stands now, unless Mahathir has a golden bullet hidden up his sleeve, it is more or less a foregone conclusion that Anwar will be celebrating Christmas in Seri Perdana… finally," he had added.
********
Kaytee Notes:
Yet there is another rumour (khabar-angin, wakakaka) that the above mentioned numbers in favour of Anwar, to wit the RPK's "Anwar 140 vs Mahathir 40 (42 abstentions)", has been a TRAP designed by "someone" really Machiavellian to hentam Anwar kaukau should DSAI fall for the perangkap.
Those 100 plus MPs supposedly supporting Anwar have been dedak-rised (in the tens of millions) to pretend they back DSAI so that the PM-in-waiting becomes overconfident and on hearing of Mahathir's blue-eyed boy being 'caught' in an alleged illicit sexual escapade, may call for a vote of confidence, when he will then be kaput-ed kaukau, wakakaka.
But the perangkap is dependent on sembileh-ing poor AA who has to become the bait to entice, excite and galvanise the impatient salivating leopard.
hmmm, I think I am eff-ed
Three objectives have been alluded to in the necessary sembileh-ing of poor AA, namely:
(a) revelation of his illicit sexual adventure will excite DSAI into believing the time is now opportune for him to strike, thus falling into the prepared Claymore-ish perangkap,
(b) revelation of the alleged sexual fornication will also insinuate DSAI has been responsible for the sabotage of AA, thus putting poor DSAI in bad light, and
(c) a more strategic plan, enervating AA so that, should/when he become the 8th PM, he knows (unlike AAB and Najib) where his loyalty should/must lie with, and he must nurture the young Crown Imperator into becoming the 9th PM (or else he would be demolished a la DSAI) - the Emperor's Sword (even when the Emperor has long gone) hangs perilously over his head (the one on top of his neck, wakakaka)
Wakakaka, sweet, very sweet and decadent.
very sweet and decadent
But thus far, Anwar has exercised caution, wariness and it has to be said, political wisdom, in restraining himself from taking the reckless plunge to challenge Maddy in a show of parliamentary confidence.
It seems he has learnt his 'lessons' well and is waiting patiently - though kaytee has often pointed out, Mahathir with his super-longevity genes may yet outlive most of the older politicians like Lim KS, Hadi Awang, DSAI and even Najib, wakakaka.
There is yet another source, but admittedly with a far more implausible tale wakakaka, one with Peh Mor interfering but seemingly with Maddy's nod of assent (because Peh Mor's plan suits his own, wakakaka).
With Latheefa Beebi Koya appointed as MACC Boss, Peh Mor wants to send a none-too-subtle message of 'Don't eff around with me' to the PKR D
ö
kk
á
lkar Dwarfs. He deliberately set the perangkap and exposed the alleged sexual tryst, bearing in mind Haziq is from Santubong, one of the PBB's stronghold where its incumbent won with a 20K majority.
Anyway, whichever source we pick, there are two common denominators in the alleged homosexual copulating
(why call it 'gay' when it's homosexual) , to wit:
(1) Anwar is NOT the Puppetmaster, and
(2) "Someone" is, wakakaka.