Malaysiakini -
A stubborn and ill-advised FT minister
:
Letter by KL Resident
It's a wonder no eggs were thrown at the new Federal Territories Minister minister during the TTDI town hall meeting on Nov 23.
Perhaps many were too shocked or have yet to digest the fact that the government for whom they threw all their weight behind and supported for a change against corruption would appoint an FT minister

who would betray their collective wishes, well-being, and hard work

in protecting Taman Rimba and their neighbourhood.
The town hall meeting ended with a way forward by setting up a joint working committee with Kuala Lumpur City Hall (DBKL), Yayasan Wilayah Persekutuan (YWP), the TTDI Residents Association (RA) and the longhouses RAs.
But the minister was then later quoted as saying: "I hope they will be open to discussions

and not be stubborn

about wanting me to cancel the project.''
Is the new FT minister of the opinion that KL residents are just "stubborn" middle-class people with small issues that he could solve in a simplistic manner at our expense?
Maybe
#SaveTamanRimbaKiara
movement is not interesting enough an issue for him like the Harapan Coin.
wakakaka
Khalid Samad needs to be reminded that he is dealing with ordinary residents who pay taxes and his decisions affect the way we live and the spaces where we make our homes.
If Khalid is disinterested in his job as the FT minister, the Pakatan Harapan government must have him replaced with someone competent and answerable to KL voters before things get worse.
For sure, new ministers must be given a chance to govern and to fix all that's broken. People will be patient so long as you show the will and some level of competency to do the right thing.
In the case of the new FT minister, how is he even proud to announce to the residents that he is the first to gazette the KL city plan (as though it is an achievement)

when he gazetted a version of the plan without consultation with local residents

?
A version of the plan with mixed development for our Taman Rimba? This is a complete betrayal to the residents' long and difficult fight against development to save the park.
Scaling down the development is not the solution – does he honestly think developers don't expect people to protest and that scaling down as part of a so-called negotiation would not be part of their plan? A "scaled down" development would be a victory on the developer's part, cause destruction to the park and lead to a complete loss of trust and faith in the Harapan government.
Arguments against Khalid's reasons for not scrapping project have been presented clearly by local planning experts that can be found
here
and
here
.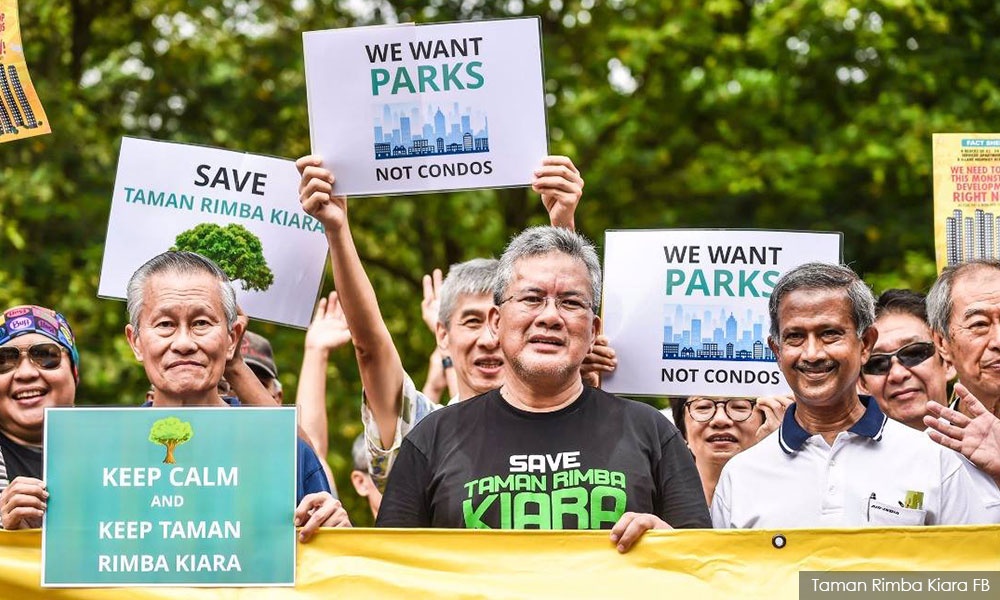 Add caption
Nothing short of cancelling the project planned for Taman Rimba would be acceptable; a strong message must be sent to developers that local residents must always be consulted and meaningfully engaged before a development project is approved; that was never the way things worked and clearly not how the new FT minister works too.
If the Harapan government allows a developer that has been associated with individuals on corruption charges to get away with going through with this project,

you will not convince your voters of your sincerity and will lend fire to your detractor's claim that Harapan is "no different" than the previous regime, and worse, you will betray your supporters

. And if this minister is allowed to betray our voters who fought so hard, what does it mean to the rest of KL voters and beyond?
So please replace Khalid with someone competent and answerable to KL voters who genuinely engages and understands the issue with the will to find a real solution.
One who won't be "stubborn" in not cancelling the unnecessary project at Taman Rimba. Otherwise, expect to lose parliamentary seats in KL in the next general election.
#pecatkhalid