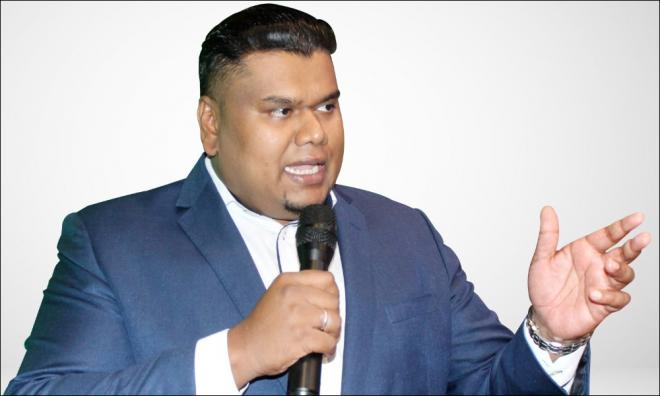 PKR rep accuses Perak exco of 'sabotage' in containing pandemic



PKR's Hulu Kinta assemblyperson today alleged that a Perak state executive councillor has appeared to "sabotage" efforts made by the state government to contain the Covid-19 pandemic.

In a statement, Muhamad Arafat Varisai Mahamad (above) claimed that the Perikatan Nasional exco member was not interested in attending the state government's official events, which can be a sign of protest against Menteri Besar Saarani Mohamad.

"Since the collapse of PN in Putrajaya, the exco member from PN party was not sincere in assisting the state government and not interested in going to the ground with the menteri besar, despite this being part of his responsibility.

"Not once, but several times. I was made to understand that this serves as a form of protest and a 'warning' that (the exco member) would not hesitate to withdraw his support for the menteri besar if PN is not respected in Perak," he said.

However, Muhamad did not name the exco member.

On Aug 26, The Star quoted few opposition lawmakers questioning PAS' Mohd Akmal Kamaruddin, the exco member in charge of health, science, environment and green technology, for allegedly not going to the ground during the Covid-19 pandemic.

In a debate on the royal address at the state assembly sitting, Tan Kar Hing (PKR-Simpang Pulai), Howard Lee (DAP-Pasir Pinji) and Asmuni Awi (Amanah-Manjoi) raised the issue about Akmal allegedly neglecting his responsibility.

Tan said with the number of Covid-19 cases on the rise in Perak, the only person who was seen as doing the job of the health exco, was the menteri besar.

"I suggest the setting up of a special health select committee, and if the health exco is unable to do his job, there should be a reshuffle to get someone who can do a better job," he said.

Yesterday, Perak DAP chairperson Nga Kor Ming also criticised Akmal for failing to do his job in battling the pandemic.

When contacted, Akmal told Malaysiakini that he will respond to criticism hurled against him in the next sitting on Monday (Aug 30).

"I will respond in the state legislative assembly sitting next Monday," he said curtly.

For the record, Ahmad Faizal Azumu resigned as menteri besar after losing a confidence vote in the state legislative assembly on Dec 4, 2020.

A total of 48 assemblypersons voted against Faizal while 10 others voted to retain him as menteri besar.

All three state assemblypersons from PAS supported Faizal.