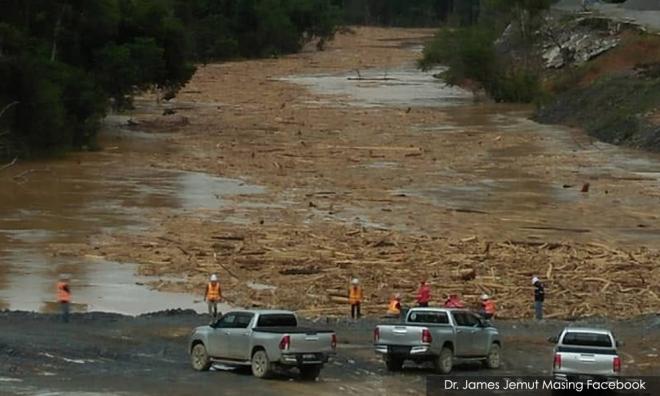 DAP, GPS leaders fume over Rajang River logjam



DAP's Sibu MP Oscar Ling is calling on the Sarawak state government to investigate the logjam that is currently clogging up the state's Rajang River.

He said in a statement today that the logjam has caused water treatment plants along affected areas to be unable to operate as normal due to high pollutants in the water.

"The Sibu water board has announced that all the water treatment plants in Sibu have ceased to operate at the moment, and the clean water supply to the whole of Sibu will be affected.

"The logjam also disturbed the water ecosystem in Rajang River," said Ling.

At about 565km, it is the longest river in Malaysia and has a number of important tributaries such as the Balui River, Katibas River, Ngemah River, Iran River, Pila River, Balleh River, Bangkit River and the Kanowit River.

Malaysia's largest and tallest (160m) hydroelectric project, Bakun Hydroelectric Dam, is located on the narrow Bakun Fall of the Balui River.

Mistake repeated

Ling recounted that during the previous logjam disaster in 2010, there were fish dying from suffocation due to high pollutant content in the water, and oxygen level in the water being reduced.

"The mistake has repeated again today and we deserve answers from the state government.

"This is a serious environmental issue and the valuable fish population might disappear if this environmental issue is not solved," he said, calling on the state government to investigate and report on the matter as soon as possible.

Yesterday, Sarawak deputy chief minister James Masing of the ruling GPS coalition also recalled the nightmare of the 2010 logjam disaster.

"The first serious logjam in the headwaters of Btg Baleh was in 2010. The jam stretched all the way from Kapit to Sibu. This resulted in riverine traffic jam with dead fish and wildlife including dead crocodiles found floating in the river," he recalled.

Masing claimed in his post that the smooth flow of the river is now blocked by the construction of the Baleh hydroelectric dam.

"This is all caused by timber concessionaries," he said.

"They operate in the headwaters of Baleh River with devastating environmental impact."

Masing said that in order to stop this logjam from recurring, the best step was to not renew the timber licences of those allowed to operate at the upper reaches of the Baleh River.

He said it was common knowledge that logging activities at the watershed of the hydroelectric project would cause siltation and thus will reduce the lifespan of the dam.