Malaysiakini

:

Harapan must hash out 'grand coalition' formula first - Amanah Youth chief


24 February 2020 - Mahathir resigned as PM, collapsing the PH cabinet & government as he refused to hand over to the PH designated PM-in-waiting

Following that, HM Agong instructed Mahathir to continue as 'interim' PM until a new government could be formed

Then
HM personally interviewed 220 (save 2) MPs as to who was their preferred PM


01 March 2020 - HM Agong appointed Muhyiddin Yassin as PM as the PN 'coalition' (PPBM, UMNO, PAS & GPS) supporting him demonstrated to the Agong it has the minimum required numbers to form majority government

Mahathir screamed and raved and ranted "I have majority support. I have 114."

Obviously HM Agong and most Malaysians weren't shown that nor believed Mahathir

😁😂😅
Amanah Youth chief Shazni Munir Mohd Ithnin said the terms for any cooperation, even with Dr Mahathir Mohamad's new party, to wrest back Putrajaya must first be hashed out by Pakatan Harapan coalition members.

He said this was because the ultimate goal would be to form a "grand coalition" that will be capable of forming a new stable government.



Shazni's (above) statement came after four Amanah Youth divisions yesterday urged their party to initiate ties with the former prime minister's new party Parti Pejuang Tanah Air (Pejuang).

The youth chiefs for the Lembah Pantai, Bandar Tun Razak, Bukit Bintang, and Batu divisions yesterday said the decision to align the efforts to reclaim the government "must be done swiftly".

They said this is to "save all Malaysians from the defectors who are running the country ineffectively."

"The main intention of the national youth wing (is) to widen cooperation with all parties who share the same goal - to take over Putrajaya from traitors," Shazni declared.

"Even so, the formula and terms of the cooperation must be thoroughly discussed with friends in the Harapan components," he added in a statement this morning. [...]
Harapan has been trying to regain power since but has been unable to put up a united front with Mahathir's faction due to disagreement between the latter and PKR over their prime minister candidate.

PKR is insistent that party president Anwar Ibrahim should be the prime minister while Mahathir's group wants the nonagenarian as prime minister once more.

Even the suggestion of Harapan ally, Warisan president Mohd Shafie Apdal, as a prime ministerial candidate has been unable to overcome the impasse.

Mahathir and several former Bersatu leaders recently announced a new Malay-based party called Pejuang, purportedly to take on the struggles of defending Malay and bumiputera interests, which it said was neglected by Muhyiddin's Bersatu.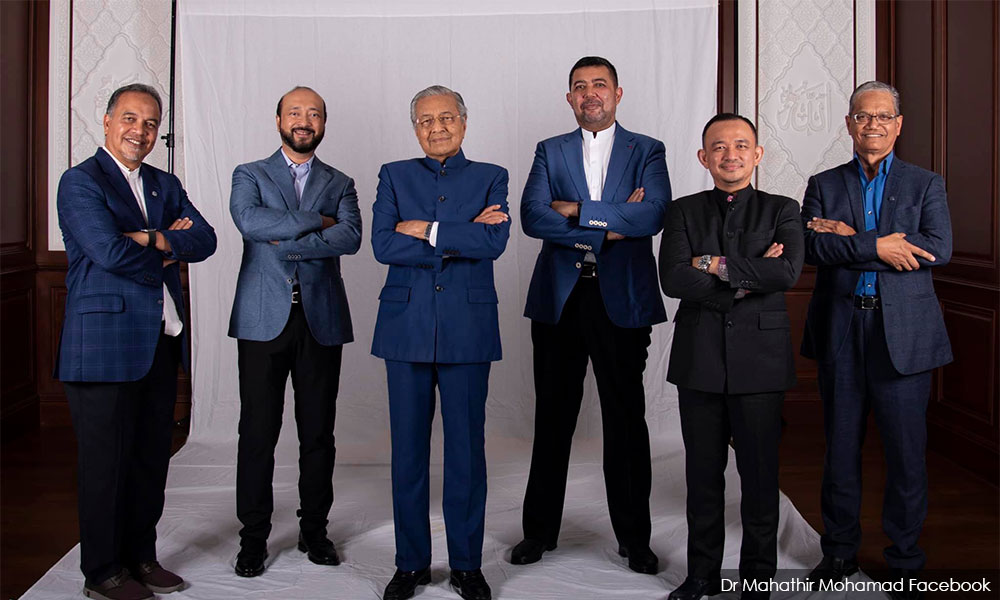 Mahathir's new party, Pejuang, made up from PPBM's leftovers

I am not surprised by Amanah Youth calling for 'ties' with Mahathir's new party. We all know how supportive of Mahathir Amanah's Khalid Samad has been. It could be said or perceived that Khalid might be even more loyal to Mahathir than to his own party leaders.
I can understand a kutu party like Amanah yearning again for ruling power, such as those its leaders had enjoyed under Mahathir in his 7th PM-ship. Look mates, even the DAP leaders like Lim GE (and thus Papa too, wakakaka), (backdoor senator) Liew CT, and a few others enjoyed those powers which they believe could only be possible under Atuk - so what more for Amanah?
Now, if you recall, when Mahathir forms his new Pejuang party he said his new party would be independent and would NOT align with the coalition led by Anwar Ibrahim (meaning Pakatan Harapan).
What does that mean when Mahathir's Pejuang does NOT have the numbers?
Mahathir knows that Anwar after being treacherously and vindictively eff-ed by him in the PH government transfer of PM-ship will NEVER ever trust him again, and thus a coalition with Anwar is out of the question. But Mahathir needs numbers which he currently doesn't have (thanks goodness), specifically 112 if he is to ensure Boi-Boi's future. Those numbers, which MUST ALSO recognise him as leader (and thus as PM again, wakakaka), can only come with an 'alliance' with:
(a) PH minus Anwar - Mahathir knows DAP and Amanah will suck up to him as power-lustful guppies and lapdogs, but PKR WITH Anwar will be an obstacle, virtually an impossibility. Maybe Anwar's political leadership can be "neutralised" with another scandal or even conveniently drop dead (by the will of God of course). In this, bloody Ass-binte might have inadvertently ruined Atuk's plans, wakakaka, or
(b) the danger with Mahathir and his Machiavellian mentality, Ketuanan Melayu Obsessions and frantic concerns for Boi-Boi, is that he is capable of allying his Pejuang with Muafakat Nasional or any juicy parts of the all-Malay coalition, provided of course Boi-Boi's future can be assured.
So a non-committed Pejuang (only committed to Atuk's interests) poses a 'clear and present danger' to Anwar, PKR and reforms.
Yet those stupid DAP and Amanah guppies still hanker for the Old Man (or his puppet, Shafie) to be their leader.