Malaysiakini

:

Pressure mounts for Khairuddin to quit after only 'slap on the wrist' fine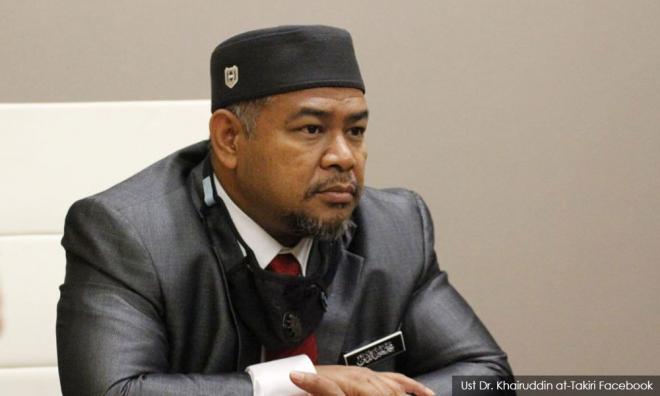 Pressure is mounting for Plantations and Commodities Minister Khairuddin Aman Razali to tender his resignation resign after he got off with only a RM1,000 fine for flouting mandatory Covid-19 quarantine regulations.
The call is not just coming from angry netizens and opposition politicians but also from within Perikatan Nasional.
Umno Youth exco member Wan Muhammad Azri Wan Deris said Khairuddin's pledge to
give up
his minister's salary from May to August was insufficient and that he should resign.
"This is not about the salary that will be returned but this is a matter of being an example to the public," he said in a tweet responding to one of the minister's supporters.
A search for the term letak jawatan (resign from post) on Twitter returned a torrent of tweets demanding for Khairuddin to resign.
Many irate netizens drew comparisons on the perceived double standards between the PAS minister and a 70-year-old woman who faced a more severe punishment for similarly breaking the quarantine order.
Social media was ablaze with fury after the Health Ministry announced that it
had fined
Plantations and Commodities Minister Khairuddin Aman Razali RM1,000 for not undergoing mandatory quarantine after returning from Turkey on July 7.
Many drew comparisons on the perceived double standards between the PAS minister and a 70-year-old woman who faced a more severe punishment for similarly breaking the quarantine order.
"Makcik who broke quarantine jailed a day and fined RM8,000. Minister breaks quarantine is free to go here and there is fined RM1,000.
"Congratulations, the Perikatan Nasional government prihatin (cares for) the rakyat," tweeted Lembah Pantai MP Fahmi Fadzil.
Johor DAP Women's publicity secretary Marina Ibrahim, meanwhile, asked how Khairuddin could possibly want to implement hudud law if there was no justice for matters such as this.
Marina Ibrahim
Many others on Twitter teased Khairuddin saying that had used a fictional promo code "#AkuMenteri" (I'm a minister) to get a discount on the fine.
Khairuddin's trip to Turkey from July 2 to 7 was first raised by Seputeh MP Teresa Kok in the Dewan Rakyat on Tuesday.



However, the Health Ministry in its statement today said the minister had been fined on Aug 7 which several netizens found suspicious.
"On Aug 19, the Health Ministry director-general said they would investigate the allegations that a minister did not follow quarantine.
"Then on Aug 22 (today), the Health Ministry said the minister was fined on Aug 7.

Three days to find a record whether the minister got fined or ...?" said a Twitter account with the handle "Konfem Sahih"

.
Khairuddin had previously not mentioned anything about a fine in several remarks made to the media.
On Aug 20, he urged the public
to wait
for a Health Ministry statement and that he would "abide by any statement" issued by them.
Today, he apologised for his actions and vowed to donate his salary from May to August this year to the country's Covid-19 Fund.
Meanwhile, Klang MP Charles Santiago asked whether Khairuddin's family members had also been fined.
This because Kok claimed to have been informed that Khairuddin had been accompanied by both his family and government officers on the Turkey trip.
The Health Ministry's statement today did not mention whether Khairuddin's entourage, too, had violated Covid-19 quarantine regulations and if they had been fined.
Muhyiddin dares not hit him too hard as the PM is very much dependant upon PAS to hold on to majority rule.
Minister Khairuddin Aman makes matters worse by offering 4 months of his salary, as if money would solve his violation of home-quarantine. As a minister he has broken the law - money can't speak in such an eff-up. The days of
"se-helai kain pelikat dan seratus ringgit (even in a green envelop, and with inflation catered for)"
no longer applies - the angry public wants his blood.
But from historical
precedence in Malaysian political thick-skinned eff-ups and 'buat ta'tahu', it's likely
Minister Khairuddin Aman will hang on, hope for 'Melayu mudah lupa-ness' and carry on, at least until GE15 or a snap election.
But I am glad this has all come out, especially since his compatriots in Kedah shows the gross obscene intolerance of a ruling Islamic Party in deliberately & maliciously destroying a heritage Hindu shrine that did no one any harm and an innocent heritage tree growing as per the blessings of Allah swt for a century providing shade for Muslims and non-Muslims alike.
The magnificent century+ old tree before destruction by an intolerant PAS authority
Did not the Prophet (pbuh) mention that a tree was not only a resting place, but also an infinite mercy of Allah swt that one should leave behind for others.
Shade is an actual expression of the mercy of Allah the Almighty swt
The magnificent century+ old tree being wantonly destroyed by a malicious PAS authority
Thanks eff-ing PAS for showing us your intolerant merciless rule
Their eventual BS excuse for the wanton malicious demolition?
A motor-cycle park, and an illegally construction at that.
It's a timely warning to us by Allah swt (Alhamdulillah), that the situation will be worse when/if PAS gets into federal rule by itself.