Extracts from Malaysiakini's
The Semenyih Rebuke
by Bridget Welsh:
The first finding is that voter turnout has dropped across races (and notably among younger people). This is normal is most by-elections, as these contests are not seen as important.

Yet, what is interesting is that voter turnout has dropped across all the communities. From an ethnic perspective (as shown in Figure 1), there was a 22% drop among the Chinese electorate in Semenyih, followed by a 16% drop among Indians, and 9% among Malays.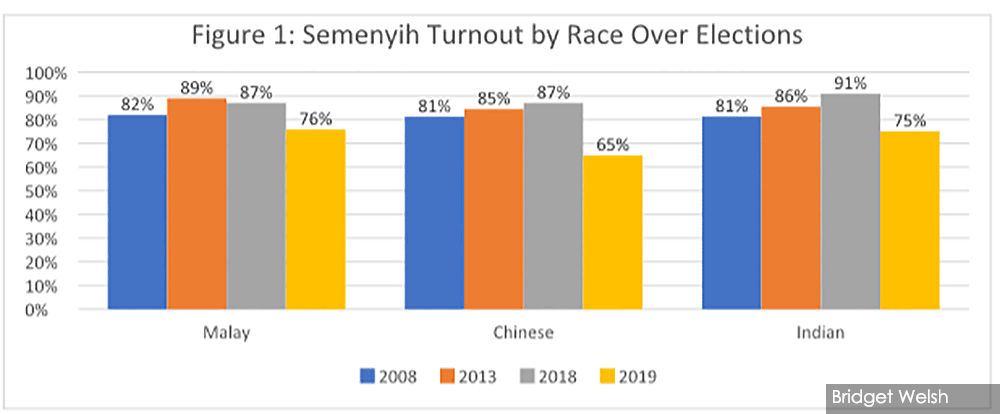 All the parties are not mobilizing like they used to, but Harapan in particular, which used issue-based mobilization in the past, has not been able to develop a message to attract voters to come the polls compared to the past.

Not only has Harapan not been able to move its campaigning into a different mode, it is losing its own base.
This is especially true among non-Malays. Many Chinese and Indians, in particular, are unhappy with Harapan and opted to stay home. Lower voter turnout suggests a more worrying trend overall, disappointment in parties and growing cynicism in the electorate
.
It's confirmed by the professor, that while Malay turnout for the by-election dropped by 11% (87% to 76%),

the Chinese turnout dropped by 22%

(87% to only 65%), while the Indians plummeted 16% (91% to 75%).
22% drop in turnout. That's drastic!
The good professor said that would be due to Chinese voters' disappointment in Pakatan (mainly DAP but also PKR) and a growing cynicism in the Pakatan politicians.
And why not when the promises were 'flattened' kaukau like capatis,
and overburnt by Mahathir's arrogant dismissal of manifesto promises as not ironclad like biblical pledges.
In other words, his contemptuous 'eff-you' of the voters vis-a-vis the PH manifesto promises showed his true colours to the voters, many of whom still remember him as PM in an earlier period, namely, 1981 to 2003, when he was notorious for his treacherous words.
Chinese like to see a man honours his promises, more so one who intends to be their leader, for 'a man's words' (promises) should be as 'good as gold'.

"I used to take on trust a man's deeds after having listened to his words. Now having listened to a man's words I go on to observe his deeds."

Confucius would be deeply disappointed in LKS and son in their lack of effort in meeting their manifesto promises made prior to GE14
But alas, Mahathir has probably never heard of such Confucian ethics.
So the Chinese in Semenyih probably did what they would traditionally do on election days, to wit, played mahjong.
pong!!!
& tiu Pakatan

wakakaka
And as if to justify their proclivity towards
'tiles & table'
, Azmin Ali has with alacrity resorted to the usual ketuanan mentality in seeking refuge for succour after a loss,

sheer blatant overt racism
.
He now wants Pakatan (meaning Pribumi and his Dwarfs in PKR) to be 'NON APOLOGETIC' in pushing the MALAY AGENDA.
no apology for ultra Malay-ism and eff you nons