Judge says won't be dictated to on which cases to prioritise after Zahid's defence raises prosecution letter in court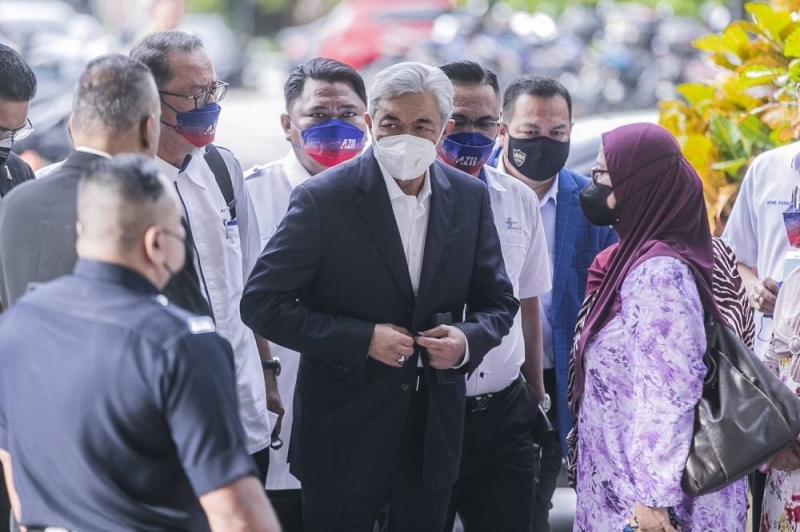 Datuk Seri Ahmad Zahid Hamidi is pictured at the Kuala Lumpur High Court August 30, 2022. — Picture by Hari Anggara

Tuesday, 30 Aug 2022 11:10 AM MYT
KUALA LUMPUR, Aug 30 — Trial judge Datuk Collin Lawrence Sequerah emphatically said that he will not be dictated to on what cases to prioritise after a letter from the prosecution in connection with Datuk Seri Ahmad Zahid Hamidi's corruption trial was shared on the internet.
At the start of hearing this morning, lead defence lawyer Datuk Hisyam Teh Poh Teik told Sequerah that the prosecution office had sent a letter dated August 29 to the High Court judge seeking priority for Zahid's case.
But immediately, deputy public prosecutor Abdul Malik Ayob said his team had been "instructed to retract the letter we sent yesterday, so there's no such application anymore" and apologised.
Hisyam interjected, saying the letter could be interpreted as pressuring the judge "to finish the case as fast as possible".
After listening to both sides, Sequerah indicated that Zahid's trial should continue.
"In any way, the court will proceed on dates already fixed, and I don't think the court can be dictated as to what case to hear, what case not to hear, which case to give priority, which case not to prioritise.
"It's the prerogative of the court, so the court will proceed with the dates fixed," the judge said.
Defence lawyer Hamidi Mohd Noh then stepped up to re-examine Ahmad Zahid.
Today marks the 17th day that Ahmad Zahid is testifying as the first defence witness.
Ahmad Zahid ― who is also a former home minister and Umno president ― is facing 47 charges, namely 12 counts of criminal breach of trust in relation to RM31 million charitable foundation Yayasan Akalbudi's funds, 27 counts of money-laundering, and eight counts of bribery charges over RM21.25 million of alleged bribes.
MORE TO COME