Zahid's case prioritised? Umno man wants AG to answer




Umno supreme council member Razlan Rafii has urged the attorney-general to explain a letter purportedly asking for Umno president Ahmad Zahid Hamidi's corruption trial to be given priority.

He questioned why the Attorney-General's Chambers (AGC) was in a hurry to dispose of the case.

"What hidden motive is the AGC trying to bring into fruition? Why doesn't this happen to other cases like the one against (DAP chairperson) Lim Guan Eng and others?

"I urge the attorney-general himself to answer this to all Malaysians," Razlan (above) said in a statement last night.

He was referring to a letter dated yesterday that was circulating online.

It was purportedly addressed to the trial judge Collin Lawrence Sequerah and was signed by the case's prosecutor Abdul Malik Ayob on the attorney-general's behalf.

In the letter, Abdul Malik purportedly wrote that he was instructed to request that the court prioritise Zahid's case over the 1MDB trial against former prime minister Najib Abdul Razak.

Sequerah is the Kuala Lumpur High Court judge presiding over both cases.

"This application is made to allow the case's hearing, which is now in the defence stage, to be concluded as soon as possible," the letter reads.

Malaysiakini is unable to verify the authenticity of the purported letter independently but has contacted Attorney-General Idrus Harun for comment.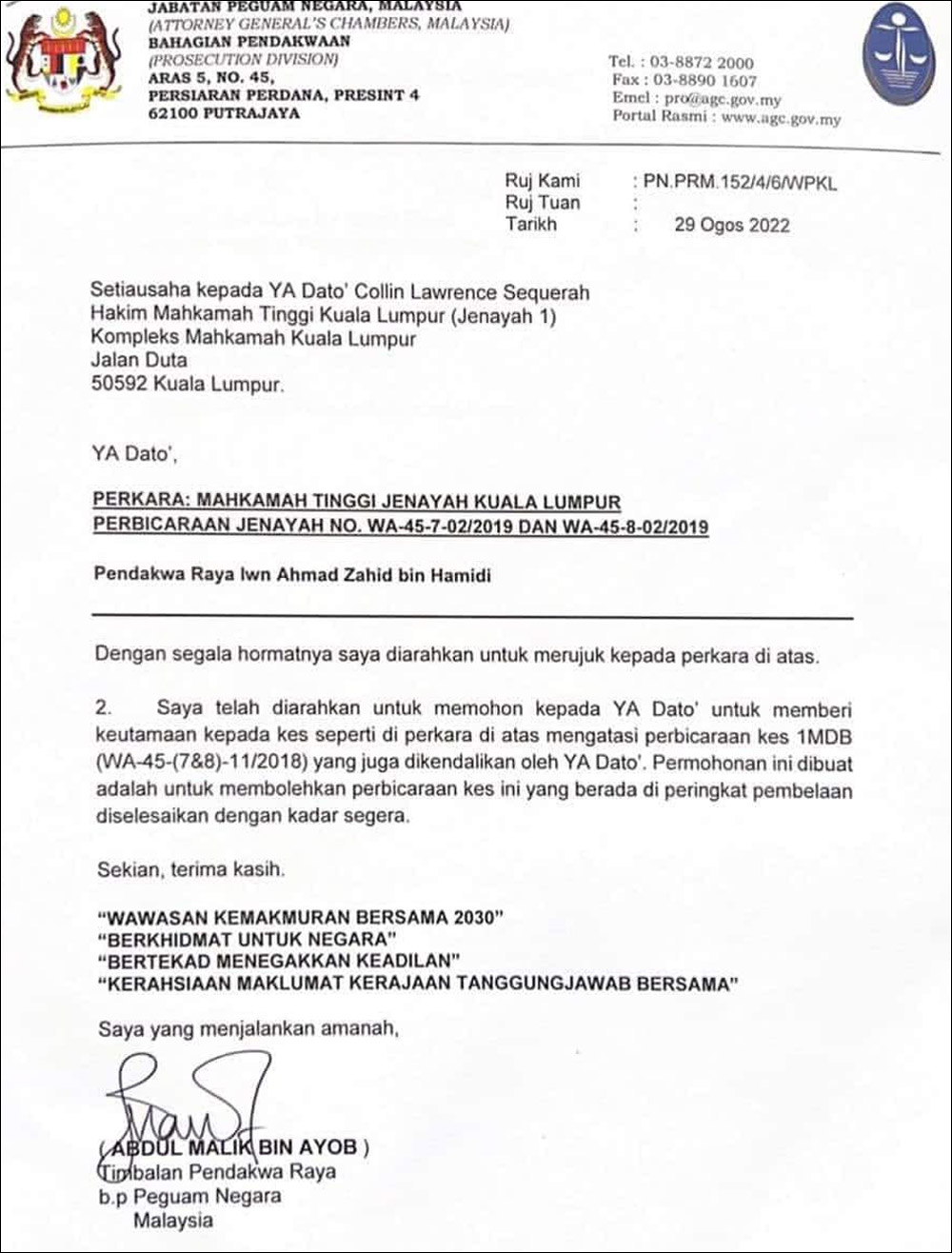 The incident comes as the judiciary and the AGC came under severe criticism from Umno over the past few weeks, over what it sees as unfairness in a number of high-profile cases involving its leaders and associates.

In addition, there have been two instances where court documents in these cases have made their way into the public.

The first was the draft judgment for Najib's appeal in the SRC International case, which the court said was a "modified" draft.

The other was alleged to be the draft judgment for Rosmah Mansor's corruption trial, but according to the police, the court said the document was merely a reference document for the judge that will be amended as the trial goes on.