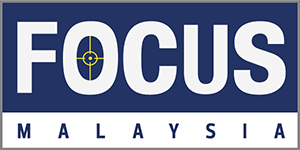 Now Muslims can savour gurdwara food 'tanpa was-was' (without doubt)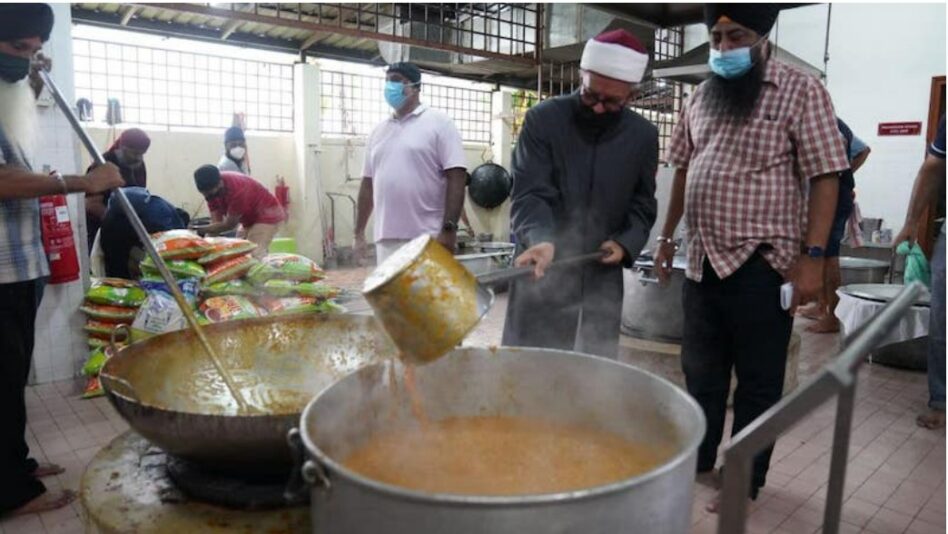 A FORMER Malaysian federal minister and state mufti visited a Malaysian gurdwara (place of assembly and worship for Sikhs) that has been churning out thousands of hot vegetarian meals for flood victims for the last few days.
His verdict: The food is "halal" for the Muslims.
The green light came after Dr Zulkifli Mohamad al-Bakri visited Gurdwara Sahib Petaling Jaya (GSPJ) yesterday (Dec 22).
The view should assuage the apprehension of some Muslims who had questioned if the food was halal for them to consume.
"It is permissible to eat food from non-Muslims who are not People of the Book as long as it does not involve meat slaughtered by them," Zulkifli said in a social media entry after the visit.
(His original text, in Malay: Hukum Muslim memakan makanan daripada bukan Muslim yang bukan ahli kitab adalah dibolehkan selagi mana tidak melibatkan haiwan sembelihan mereka.)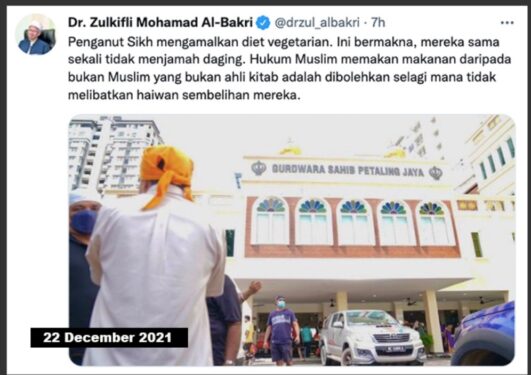 Zulkifli was the Mufti of the Federal Territories before being tapped as Minister in the Prime Minister's Department in-charge of Religious Affairs in the Perikatan Nasional (PN) administration under former Prime Minister Tan Sri Muhyiddin Yassin from March 2020 to August 2021.
Gurdwaras worldwide usually have kitchens where large scale vegetarian meals are cooked for the congregation.
The meals called Guru Ka Langgar are vegetarian and does not consist alcohol so that it can be consumed by people of all persuasions. The Darbar Sahib in Amritsar which is popularly known as the Golden Temples is badged as the world's largest community kitchen for feeding 100,000 hot meals daily.
Since Sunday (Dec 19), GSPJ had been producing some 10,000 packed meals daily – all freshly cooked and packed by volunteers at the gurdwara – to be distributed to the flood victims of one of the worst flooding incident in the recent years in Malaysia.
The gurdwara has also set-up a call centre to receive calls from flood victims and organised delivery of the meals. Neighbouring Shah Alam gurdwara has followed suit, whipping up 5,000 packs of meals a daily.
But some had cast doubts if the gurdwara food was permissible for Muslims, asking if they can consume it tanpa was-was (without hesitation). At the same time, some Malaysian Muslims had vouched for the food prepared at GSPJ.
"I am a Muslim. I know what is halal and haram. I was a volunteer at the Gudwara last night. I helped with the preparation of food and had my meal there during lunch break. Yes, it's halal. Only vegetarian," tweeted Sharifah Shahidah Syed Kamarulzaman, a former deputy secretary-general of Parti Keadilan Rakyat (PKR).
"To those who dispute this, please don't be toxic during the current disaster spell. Malaysians from all walks of life want to help the flood victims." – Dec 23, 2021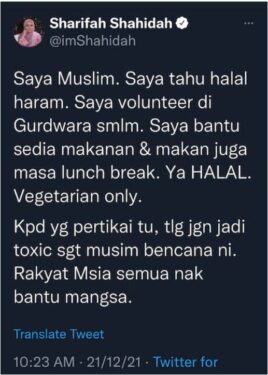 This story was adapted by from original article entitled "Now You Can Eat Gurdwara Food 'Tanpa Was-Was'" which appears in Asia Samachar (an online newspaper for Sikhs/ Punjabis in Southeast Asia and beyond) dated Dec 22, 2021).