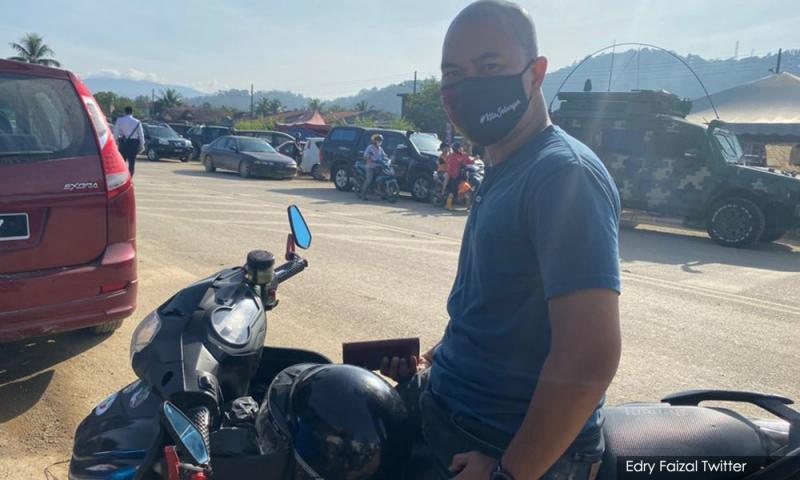 'Fierce' cops deny DAP rep entry into PM event in own constituency



Dusun Tua assemblyperson Edry Faizal Eddy Yusof has been left perplexed after police prevented him from attending Prime Minister Ismail Sabri Yaakob's gotong-royong (community clean-up) event even though it was being held in his constituency.

The DAP elected representative posted a picture of himself on a motorcycle having apparently been turned back from the location.

"The PM is coming. As an assemblyperson for my constituency, I was asked if I could greet him as a sign of respect.

"But this morning when I wanted to enter the location, the police did not allow me in. Never mind, I also have a lot of other work. Welcome YB," tweeted Edry (above).

Edry also took a swipe at police who appeared to be fierce with him but failed to attend local disaster management committee meetings.

"To those on the police side who were fierce with me and the villagers earlier, please attend the Hulu Langat district disaster coordination meeting tonight.

"There have been two nights of (police) skipping meetings. We have a lot of things to settle," he added.

Ismail Sabri was set to attend two Keluarga Malaysia gotong-royong programmes at Taman Sri Nanding and Kampung Dusun Tua this morning.

Calls to sue PM

Yesterday Hulu Kelang assemblyperson Saari Sungib called for the public to band together to launch a lawsuit against Ismail Sabri for allegedly acting in bad faith when the state of Selangor was hit by floods.

He claimed there was clear evidence that the premier had ignored early pleas for help and federal intervention in the state.

"Among the evidence is that he ignored pleas by the Selangor Menteri Besar (Amirudin Shari) asking for immediate aid when the floods were getting worse.

"Was there bad faith or mala fide by Ismail Sabri towards the Selangor government?" Saari said.