From MM Online - extracts from article
'Office Politics'
by Alwyn Lau:
Indeed, one of the reasons religious inequality exists is precisely because nobody wants to address it openly and fairly.

The power of the obscene reality lies in the public's refusal to treat it as a full and non-discreet reality.
Energy giant Shell said it is removing life-sized cutouts of a Malaysian woman in a headscarf from its petrol stations in the Muslim-majority country after photos of men groping the figure started circulating online

Also, the case of the "virtual" molestation of Shell model, Nor Shafila Khairusalleh,

is a symptom of a host of sexual transgressions surfacing (not least of which is the problem of the rape of minors)

.

There is one reality — the one everyone lives in where Malaysians are by and large sexually conservative folks with a deep respect for everyone. And

there is another reality threatening to burst forth

— this is the one in which sexual predation is fast becoming a norm.

If the authorities do not openly discuss and address the second reality, it will become more and more prevalent.
Alwyn advises society to face 'reality' no matter how unpalatable it is in order to deal expeditiously with its intrinsic problems before it's too late.
I believe Alwyn has brought out a good point, namely, a likelihood of increase in sexual predation, though I want to discuss it more specifically.
Focusing on what Alwyn described as ...
"
the virtual molestation of Shell model, Nor Shafila Khairusalleh
"
and the subsequent mass withdrawal of her portrait cutouts by Shell from its petrol stations, I would normally dismiss such withdrawal actions as unnecessary knee jerk reactions to a macho publicity seeking joker.
But alas, given the situation in Malaysia which I have to say is NOT yet as bad as Muslim (so-called) refugees and illegal migrants in Europe misbehaving by groping, fondling and even raping European women as happened in Cologne, Bonn and several other places in Germany, I have to take seriously Alwyn's advice that it could be
is a symptom of a host of sexual transgressions surfacing (not least of which is the problem of the rape of minors).
'Cologne is every day': Europe's rape epidemic'
(extracts):
GERMANY, Sweden and other European countries are facing growing public unrest amid a wave of reports of sexual assaults since the Cologne attacks.

New York-based conservative think tank Gatestone Institute has compiled a shocking list of sexual assaults and rapes by migrants in Germany in just the first two months of the year.

Drawing only from German media reports, the list documents more than 160 instances of rape and sexual assault committed by migrants in train stations, swimming pools and other public places against victims as young as seven.

German police use terms such as "southerners" (südländer), men with "dark skin" (dunkelhäutig, dunklere gesichtsfarbe, dunklem hauttyp) or "southern skin colour" (südländische hautfarbe) to describe the alleged perpetrators.

Authorities across the country have been accused of downplaying the true extent of the problem by suppressing information about migrant-related crimes, ostensibly due to a "lack of public interest".

Police are also wary of fuelling civil unrest amid a rising number of attacks on migrants and shelters by right-wing vigilante groups. In response, Germans are increasingly turning to social media to spread information.

A German Twitter account, @XYEinzelfall ("individual cases"), has created a Google map to track police reports of crimes allegedly committed by migrants across the region. "Cologne was just the tip of the iceberg," the page says. "Cologne is every day."

Protestors with a banner reading: 'Stop Merkel! Secure borders, drop the CDU!'. Picture: Sean Gallup Source:Getty Images

Most recently, three girls aged 15, 16 and 17 were assaulted over two hours by a mob of up to 30 migrants at a shopping centre in the northern city of Kiel.

Since the attack, which began when two Afghan men began stalking the teenagers and sharing photos on social media, other women have come forward to report similar experiences.

"Groups of young men gather at the Sophienhof [shopping centre] every evening," a restaurant owner told the Kieler Nachrichten newspaper.

"

What they do here is unacceptable. The moment they see a young woman wearing a skirt or any type of loose clothing, they believe they have a free pass.

It is about time migrants are made to understand: things in Germany function differently than in their home countries."
Sad to say, I notice that people in countries that show very little respect for women for whatever reasons (culture, religion) or where the males have had virtually nil or scarce contacts with females, again due to either religion or culture, have been the worse offenders of rape and sexual assaults
as described above
, not only in Europe but in their own countries.
This observation is not confined to only residents of Middle-East or Arabs in general, but also to Indians (from India, not Malaysia). When such males come into contact with women, especially white women whom they have been led to believe are far more promiscuous (like our former military man in NZ), they would go sex-crazy and misbehave.
Muhammad Rizalman Ismail
guilty of indecent assault of 21-year old Tania Billingsley a New Zealand woman
sentenced only to house arrest

ie, be confined in a house for 9 months but not at the Malaysian High Commission, but at a house rented by Malaysia (meaning your tax money)
In Bangalore during last New Year Eve night, hundreds of Indian men celebrating the occasion took criminal liberties to grope women who happened to be around but who were strangers to them. Their vile disgusting behaviour was so rampant, reckless and bad BUT disappointingly (and expected) aggravated by equally disgusting excuses made by an Indian Minister (and the police).
The Guardian
reported
:
An alleged

"mass molestation"

on the streets of one of India's biggest cities on New Year's Eve

was the result of young people trying to "copy" western mindsets and clothing, an Indian state minister has claimed

.

Thousands of people gathered on two central streets in Bangalore on Saturday night to celebrate the new year. Local newspaper reports and witnesses said the crowd became unruly and began to subject women to sexual assault and harassment.
Bangalore police detain six men over New Year's Eve 'mass molestation'.
The Bangalore Mirror said its photojournalists were "first-hand witnesses to

the brazen, mass molestation of women" on the city's streets

, publishing pictures of one woman pressed in by a crowd of men and another appearing to cower on the shoulder of a female police officer.

One witness told the Guardian: "I saw women being molested in the crowd and people trying to find places where they could hide themselves and not be attacked."

"There were inhuman acts," said Sammy, who asked for his surname to be withheld.

"People were acting like they were helping the women, but actually they were molesting them, insulting them, just provoking them."



"The maximum was that even if she was suffocated and someone was trying to pick her up, there would be lots of people trying to grab her. I couldn't stand it; I felt helpless."

Chaitali Wasnick, a photographer, wrote on Facebook that a man had tried to grope her on Saturday night as she was coming back from work. "With so much ease he did [it], as if he thought I'll not utter a word," she said.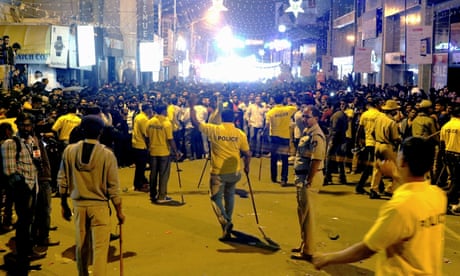 'I punched and kicked him': victim of Bangalore molestation tells of her fight back



No police officers intervened

, even as she fought the man off, she said.

Police in the city said they were badly outnumbered by the crowd in the area but received no official complaints of sexual assault, considered a massively underreported crime in India.

"We had deployed 1,600 police personnel in the area for new year's celebrations and around 60,000 people had come there that night," said Nagaraj, the inspector at the Cubbon Park police station, who like many Indians uses only one name.

"But we had the situation under control.

However, if such incidents did take place that night,

we urge people to come forward and file complaints."

G Parmeshwara, the home minister for Karnataka state, appeared

to brush aside the incident

on Monday in comments to the news agency ANI.
Minister G Parameshwara was
dismissive of the mass molestation

blamed Indian Youths

for aping Western culture
"[On] events like new year's … there are women who are harassed or treated badly," he said. "These kinds of things do happen."

He said the problem was that the young people who had gathered in the city's streets "were almost like westerners".

"They tried to copy the westerners, not only in their mindset but even in their dressing," he said. "So some disturbance, some girls are harassed,

these kinds of things do happen."
Jyoti Singh Pandey, the 23-year-old physiotherapy student who died after being brutally gang raped by six men in a moving Delhi bus
In Malaysia and SE Asia, and countries further Eastwards, the sex-crazy male phenomena are not that horribly and disgustingly bad, and please note that in our everyday lives we live amongst millions of Indian Malaysians peacefully.
Our men (of all ethnicity) are generally quite well behaved. My guess is that people in our region and the Far East have been adequately exposed to female company at every level.
While individual man or even gangs in Malaysia have molested or raped women and girls, those would be in isolated places or on opportune occasions but hardly on as mass molestation as had happened in Bangalore or (as already discussed) in Europe.
Indeed, we don't suffer from the vileness of Middle-East migrants behaving in criminal fashion molesting women and girls in Europe or those in India.
But one question:

Will this changed as our society, especially in Malaysia and Indonesia, become more and more Arabised or Indianised?
Being incrementally denied more and more social commingling with female company, will they became like those Middle-East immigrants behaving worse than animals in their host countries?
Based on the behaviour of JAWI in the notorious Zouk Nightclub shame (ie. shame on JAWI) and of JAIS in Gombak,
I have no confidence for the safety of our womenfolks in the future.
Recall the JAWI shame to Islam then which prompted the BBC to
report
:

... allegations have surfaced about misconduct by Malaysia's religious police during a raid on a top Kuala Lumpur nightclub last month.

More than 100 plainclothes officers from the Federal Territories Islamic Department (JAWI) detained young Muslims at the Zouk nightclub.



Female detainees complained of sexual harassment by officers

and the incident has led to a heated debate about the department's future.

Eyewitnesses have now told the BBC that officers assaulted and severely beat members of the club's staff.

The sources also said that non-Muslim patrons, including tourists, who were outside the officers' jurisdiction, also reported being threatened with violence.

"Up to 150 of them came in," one witness said. "They didn't identify themselves, they didn't show any ID cards. They just forced their way in and started pushing people around."

In the days after the raid it emerged that dozens of young women were held for up to 10 hours without access to a toilet, long after male detainees had been released.

A number of women said religious officers ordered them to pose in their nightclub outfits while others were asked lewd questions about their genitalia.

[...]
JAIS might want me?

Others, including SI Azhar, were angered by the officers' alleged behaviour.

"If the reports were true, the officers [who] committed those acts were no better than hypocrites, trying to uphold good values of Islam but themselves never follow[ing] it. You have ashamed us fellow Malays and Muslims.

Just tell me, how can we encourage non-Muslims to embrace Islam with this kind of attitude?"
As for JAWI's keen competitor on salacious behaviour, JAIS,
we read NST
in 2006 (not Malaysiakini, wakakaka) about the lustful leery lascivious behaviour of a JAIS officer who caught an unfortunate woman for khalwat.
The poor sweetie had gone to JAIS office in Gombak the day after her embarrassing encounter with the Islamic organization, in a vain hope to 'settle' the case amicably. However, she claimed she got more than she bargained for.

She was molested and forced to perform oral sex on said JAIS officer as an inducement to let her off the hook. She also alleged the officer used criminal force to outrage her modesty by caressing her breasts and kissing her on the lips.

So much for these Jabatan Agama Negeri (JAN) officers..
I reckon that's what Alwyn Lau meant when he said:
There is one reality — the one everyone lives in where Malaysians are by and large sexually conservative folks with a deep respect for everyone. And

there is another reality threatening to burst forth

— this is the one in which sexual predation is fast becoming a norm.



If the authorities do not openly discuss and address the second reality, it will become more and more prevalent.
Don't forget Alwyn was also worried about
the problem of the rape of minors.

By the by, what happened to the investigation into the case of a 12 year old girl at a Malaysian chess tournament whose dress was seen by a Tournament Director
as
"seductive"
and
"a temptation from a certain angle far, far away"
.
And this one from my Penang matey Anas Zubedy:
12-year old schoolgirl "seductive" and "a temptation"? For which sort of men?
.