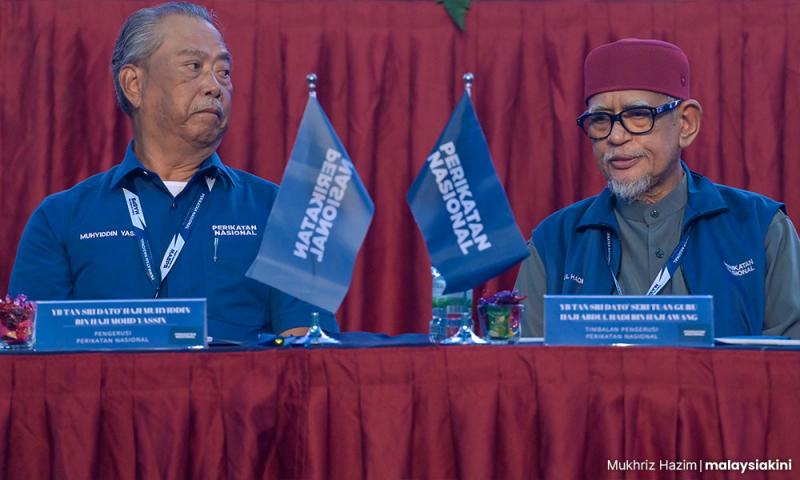 Muhyiddin expects PAS to set 'cut-off date' with Umno




PAS reaffirmed its commitment to Perikatan Nasional (PN) during a meeting between top leaders of the Islamist party and coalition partner Bersatu last night.

This was revealed by Bersatu president Muhyiddin Yassin (above, left) today, whose residence was the place of the meeting that was also attended by PAS president Abdul Hadi Awang (above, right).

"I have been given the impression that soon, PAS will decide on the party's direction in PN and whether they will pursue anything with Umno or not.

"They will make a decision. Perhaps (state) a 'cut-off' date and timeline that (after which) they got nothing to do with Umno. We'll leave it to them," Muhyiddin told reporters in Putrajaya.

Top leaders from PAS and Bersatu met last night amidst PAS' apparent unhappiness with Muhyiddin describing BN as PN's "main enemy".

This was uttered by Muhyiddin during his speech at Bersatu's sixth-anniversary event on Saturday.

In a statement, PAS secretary-general Takiyuddin Hassan said it was "unwise and awkward" to label a partner in a unity government as the "main enemy".

'No decisions from PAS-Umno meet'

Meanwhile, Muhyiddin said he and Hadi were transparent about their meetings with political leaders from other parties.

For instance, Muhyiddin said he was briefed on Hadi's recent meeting with Umno president Ahmad Zahid Hamidi.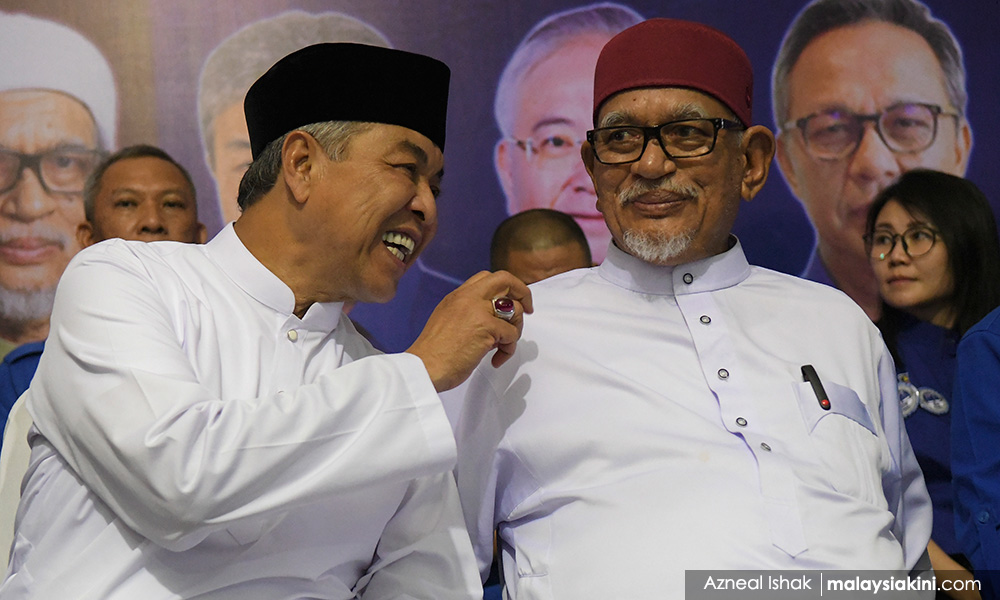 Umno president Ahmad Zahid Hamidi (left) speaking with PAS president Abdul Hadi Awang
"(Hadi) said there were no decisions (after) their meeting which lasted half an hour. It's nice of him to tell me.
"We will let each other know who we are meeting. We don't hide. (Hadi) said there was no outcome from (his) meeting (with Zahid)," said Muhyiddin.
Muhyiddin said he applauded Hadi's efforts to unite Muslim parties but he said ties between Umno and Bersatu were unlikely.
He said this was because Umno's delegates had resolved during the party's general assembly that they will not work with Bersatu.
Moreover, Bersatu's attempt to join Muafakat Nasional - an electoral pact between PAS and Umno - had come to a dead end.