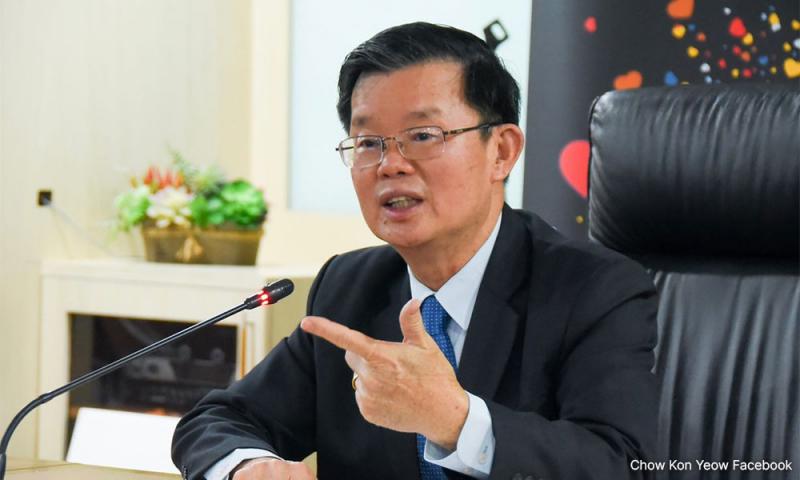 Give details on corruption cases in Penang, CM tells MACC chief




Penang Chief Minister Chow Kon Yeow has asked the MACC to reveal the number of corruption-related arrests and convictions involving the state's civil servants since 2019.

This came after MACC chief commissioner Azam Baki's remark yesterday that cases of bribery, abuse of power, and making false claims among civil servants in Penang are worrying.

Azam did not provide a breakdown but said that 919 complaints on the transgressions were received from 2019 until now.

Responding to the remark, Chow in a statement today said that while Penang welcomes the MACC's investigations against corruption in the name of good governance, accountability, and transparency, the commission should, at the same time, reveal details of the purported crimes.

"No one is above the law and civil servants, whether from federal, state, or local authorities and agencies, found to be involved in accepting bribes, abuse of power, and making false claims must be investigated and charged as soon as possible.

"At the same time, the Penang state government wants the MACC to be transparent in revealing the number of cases brought to the courts and the number of civil servants found guilty," Chow said.

According to him further, the MACC should be transparent in the matter as the state administration does not want its image, and of its civil servants, to be tarnished only by account of the number of complaints received since 2019.

"The Penang state government is ready to work with MACC to ensure that officers involved in corrupt practices be dealt with severely."


'What's the justification?'

Meanwhile, DAP veteran Lim Kit Siang also challenged Azam to give a detailed breakdown of the purported crimes.

"Has Azam the facts and figures to justify his statement? Which is the most, and least corrupt state in the country?

"The MACC chief should not make irresponsible statements against any state without facts and figures," the Iskandar Puteri MP said in a statement.

On Azam's remark that the MACC has received 312 information about accepting bribes and 147 on abuse of power in Penang, Lim dared the former to provide similar figures for other states in the country, complete with the time frame too.

"How many persons have the MACC charged in court for bribery and abuse of power in Penang, and what are the figures for the other states?

"This is one subject the Parliamentary Select Committee (PSC) on agencies under the Prime Minister's Department should call up Azam to explain and elaborate," Lim said.