Malaysiakini

:

In Selayang Baru, desperate residents risk barbed wire fence to receive supplies
As the lockdown on Selayang Baru intensifies, desperate locals are risking running afoul of law enforcers for their necessities.
When Malaysiakini visited Taman Selayang yesterday, the neighbourhood was cordoned off with 2-metre-high barbed wire fencing. Many locals were seen anxiously waiting for their friends and family members near the barbed wire barricade for supplies.
From a distance, messages in several languages could be heard warning people to stay indoors. Armed soldiers patrolled the barricades. Upon them appearing, the people at the barricades would scurry away.
Once the coast was clear, the residents would re-emerge at their designated waiting spots.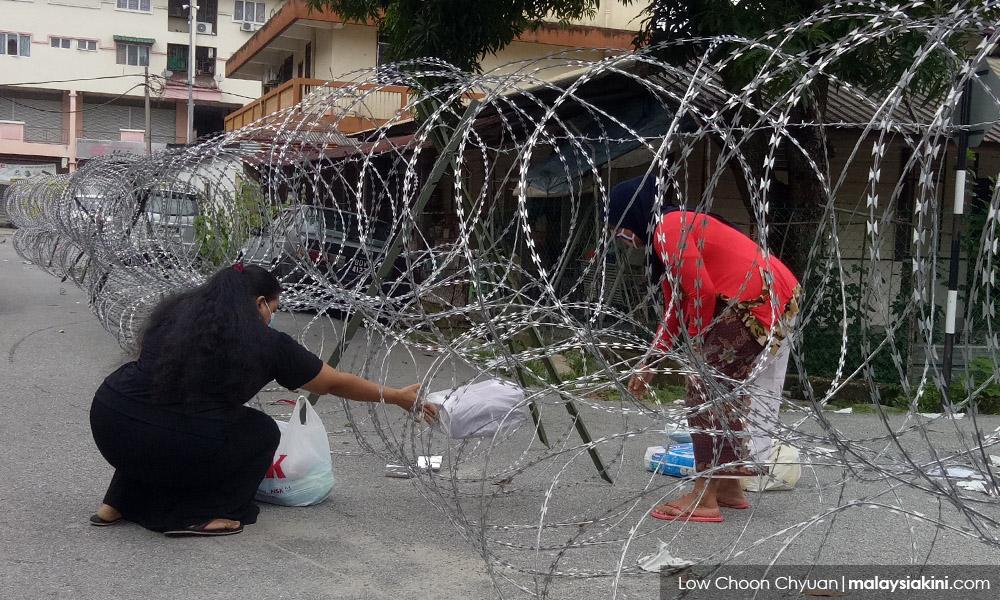 The Taman Selayang suburb is one of seven zones within the vicinity of the Kuala Lumpur wholesale market that the authorities have cordoned off as part of an enhanced movement control (MCO) order.
The market, the largest of its kind in the country, is currently a focal point for health authorities in its bid to stop the spread of Covid-19.
Food in the enhanced MCO area is supposed to be supplied by the Welfare Department. However, many of the residents interviewed said it was insufficient.
A retiree, who wished to be known only as Lee, 75, said the Welfare Department supplied a bag of rice, cooking oil, two loaves of bread, 30 eggs and a packet of dried anchovies.
"My household has 10 people. How will that be enough?" he told Malaysiakini.
Another resident, who wished to be known only as Leong, 52, said he was forced to order food from stalls in the neighbourhood because what was provided by the Welfare Department was not enough.
"We have been eating the same thing every day," said Leong, who used to work in a biscuit shop.
Low Kian An, 26, who was outside his grandmother's house, said the residents have joined a WeChat group to urge unaffected neighbours to help those in need.
"There are about 500 people in the group... If we face problems, we will raise it in the group and some people will try to help out," he said.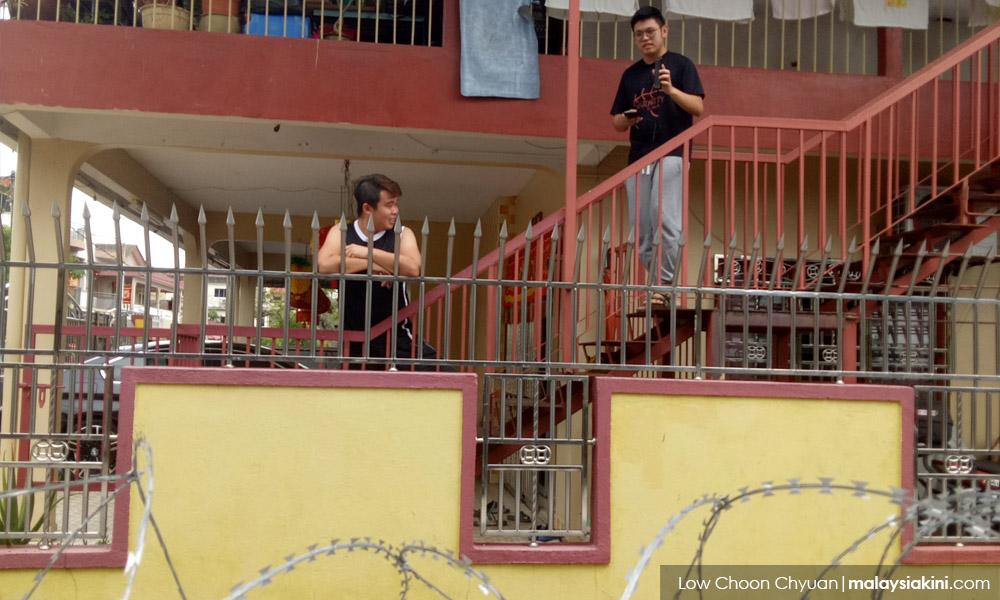 Residents unaware of ops centre
All of the residents interviewed said they were unaware of any government operations centre where they could ask for help in buying additional supplies.
According to Senior Minister (security cluster) Ismail Sabri Yaakob, every enhanced MCO area should have one. He previously advised those who needed help to reach out to the National Disaster Management Agency at 03-61201092 or 03-61261500.
A resident in the area, who only wanted to be identified as Wong, 52, an e-hailing driver, said his mother-in-law was old and needed adult diapers and he doesn't know how to reach out to the operations centre.
Fortunately for Wong, some of his friends are making the necessary purchases for him and passing it through the barbed wire barricade.
Wong said there were 11 people in his household and he was the only providing essential services.
"We are worried. We are stuck at home but we still need to spend money every day," he said.
Priya, 39, an odd-job worker, said she needed milk powder and diapers for her toddlers.
Asked if she knew where the operations centre was, she replied: "I am illiterate. How would I know?"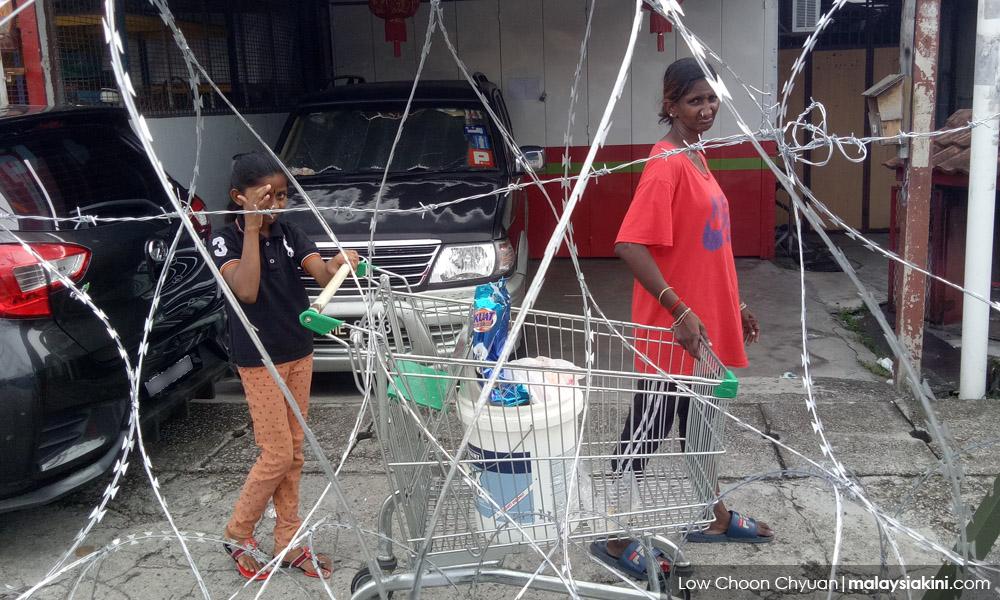 Stuck with no work
Unlike most parts of Malaysia, the lockdown in this part of Selayang meant that even essential service providers could not go to work to feed their family members.
A pharmacist, who wished to be known only as Yap, 28, said she was shocked when she woke up on April 25 to find her neighbourhood cordoned off and she was unable to go to work nearby.
"The night before we saw a lot of army personnel and police. We don't know what was happening. The following morning, we woke up to this," she said, pointing to the barbed wire.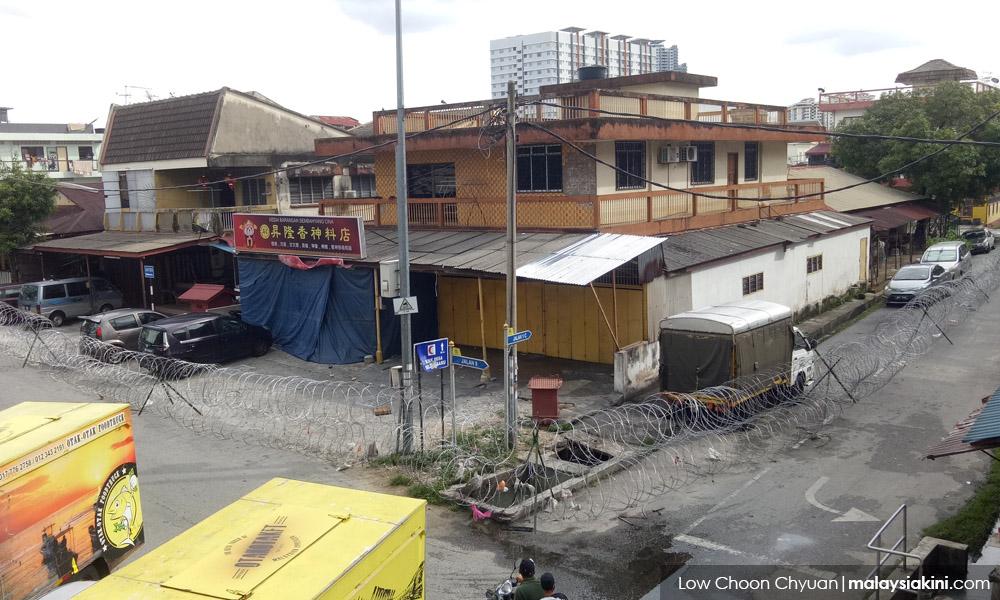 The enhanced MCO in Selayang Baru will only be lifted on May 3.
Altogether, the seven areas being cordoned off affects 22,000 residents and 16,000 of them are believed to be foreigners.