Malaysiakini

:

Race for Sabah CM candidate as GRS risks coup with every passing moment
The Sabah election may have concluded but the race to form the state government has only just begun.

Gabungan Rakyat Sabah (GRS) - comprising Perikatan Nasional (PN), BN, and PBS - won the snap election last night after securing 38 out of the 73 contested constituencies, which is a slim two-seat majority.

Conventionally, the chief ministerial candidate would quickly be sworn in and then convene a special state legislative assembly sitting to appoint up to six nominated state assemblypersons, who can bolster the new government's majority.

A system unique to Sabah, the nominated representatives enjoy the same rights as an elected state assemblyperson. Their vote also counts in keeping or changing the chief minister.
This was what former chief minister Musa Aman tried to do after the May 9, 2018 general election.
At the time, Musa's BN was in a stalemate with the Warisan Plus alliance as both coalitions won 29 seats respectively. A total of 60 seats were contested in that election.
The other two seats were won by Star, which Musa quickly cut a deal with the Sabah-based party for their support. He was then sworn in as chief minister on May 10, a day after the election.
However, before Musa could convene a special state assembly sitting to appoint nominated assemblypersons who will be friendly to his government, Warisan president Shafie Apdal engineered a series of defections that cost Musa his majority.
Shafie was then sworn in as the chief minister on May 12, two days after Musa was sworn in.
Four days after that, Shafie appointed two nominated assemblypersons and another two in the following month.
Fast forward to today, GRS, which has a two-seat majority, would also want to move with haste as Shafie could pull off another series of defections as he did in 2018.


Complicated coalition of coalitions

However, unlike in 2018 where Musa was the undisputed chief ministerial candidate for BN, the GRS is a more complicated coalition of coalitions.

Of the 38 seats GRS won, PN has 17 seats, BN took 14 seats, while PBS secured seven.

PN, which won the most seats within GRS, sees itself as the natural coalition to have a say on who should become chief minister.

Prime Minister Muhyiddin Yassin previously proposed the newly-minted Sulaman assemblyperson Mohd Hajiji Noor (below, second from right) as PN's chief ministerial candidate.

However, PN's 17 seats are contributed by two parties - Bersatu with 11 seats and Star with six.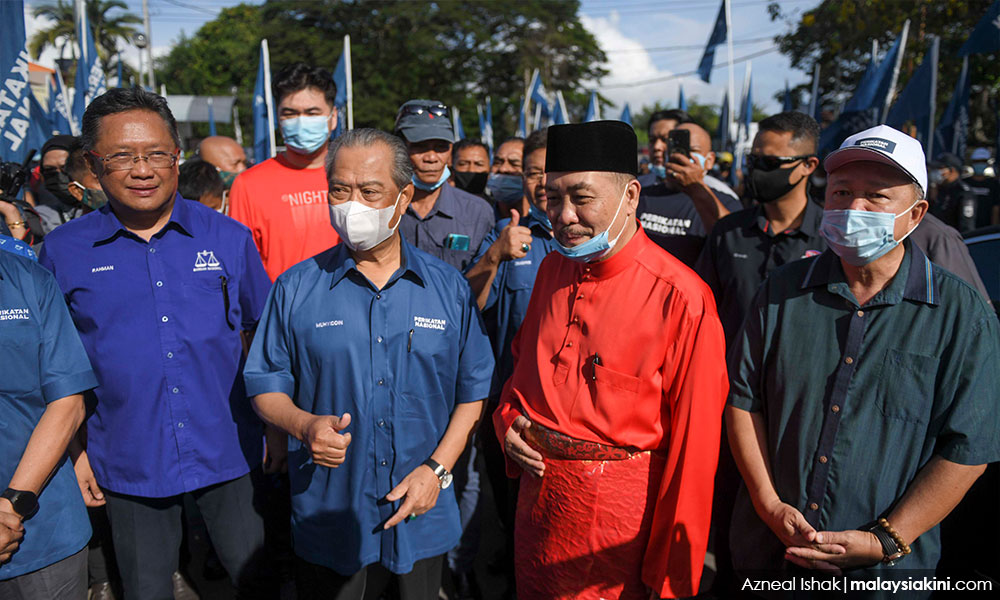 In contrast, Umno is arguing that even though BN won fewer seats than PN as a coalition, Umno as a party won the most seats in GRS.

All of BN's 14 seats were contributed by Umno. BN allies, PBRS and MCA, failed to win anything.

As individual parties, Bersatu comes in second with 11 seats while PBS is third with seven seats and Star is fourth with six seats.

"The chief minister from GRS must be chosen from Umno," Umno president Ahmad Zahid Hamidi told Malaysiakini.

However, the legal procedure has little regard for the intricacies of coalition politics.

Instead, all that matters is who has the support of at least 37 out of the 73 newly elected assemblypersons – the bare minimum for a simple majority.

This means no single party in GRS can get their own candidate sworn in as chief minister behind their allies' backs as every single party is needed to meet that threshold.



That is unless one of them cuts a deal with the current opposition.