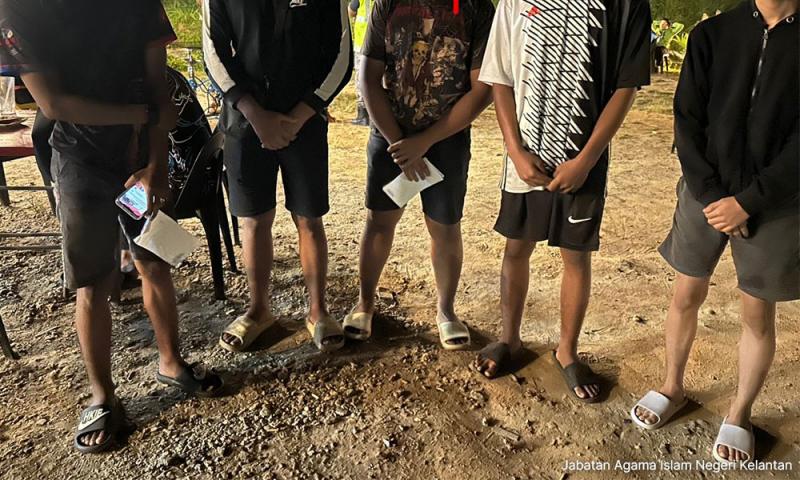 K'tan Islamic dept issues warning to 7 men for wearing shorts




The Kelantan Islamic Religious Affairs Department (Jaheik) has issued warnings against seven men for failing to observe Islamic modesty rules by wearing shorts that exposed their thighs.

Jaheik enforcement division deputy director Mohd Fadzuli Mohd Zain said the men were found during a joint operation with the Tanah Merah District Council (MDTM), the Tanah Merah District Health Office, and the National Anti-Drug Agency (AADK) last Friday.

He said that the individuals, aged from their teens to their twenties, were at a shop in Tanah Merah at the time of the incident.

"The operation was carried out after receiving public complaints regarding a shisha business at the location.

"As a result of the operation, seven men who were wearing shorts and exposing their aurat (modesty) were given warning notices under Section 23 and could be punished according to the Syariah Criminal Code (I) Enactment 2019, which carries a fine of up to RM1,000 or six months' imprisonment.

"They were given a warning and are required to a counselling session," Fadzuli said when contacted today.


Islamic modesty rules require Muslims to cover their aurat when in the presence of people with no familial relation (non-Mahram). This generally means covering the body from the navel to the knee for men, and the entire body except for the face and palms for women.

Meanwhile, Fadzuli said that the MDTM operation also seized six shisha apparatuses and a warning notice was issued under the Licenses, Trade, Business and Industry Bylaw 2009.

"The District Health Office issued 11 compounds amounting to RM1,900 for offences under the Control of Tobacco Product Regulations 2004.

"Another five compounds were issued under the Food Hygiene Regulations 2009, amounting to RM1,500," he said.