Malaysiakini -
A coup in M'sia? Nothing is impossible, says minister
(extracts)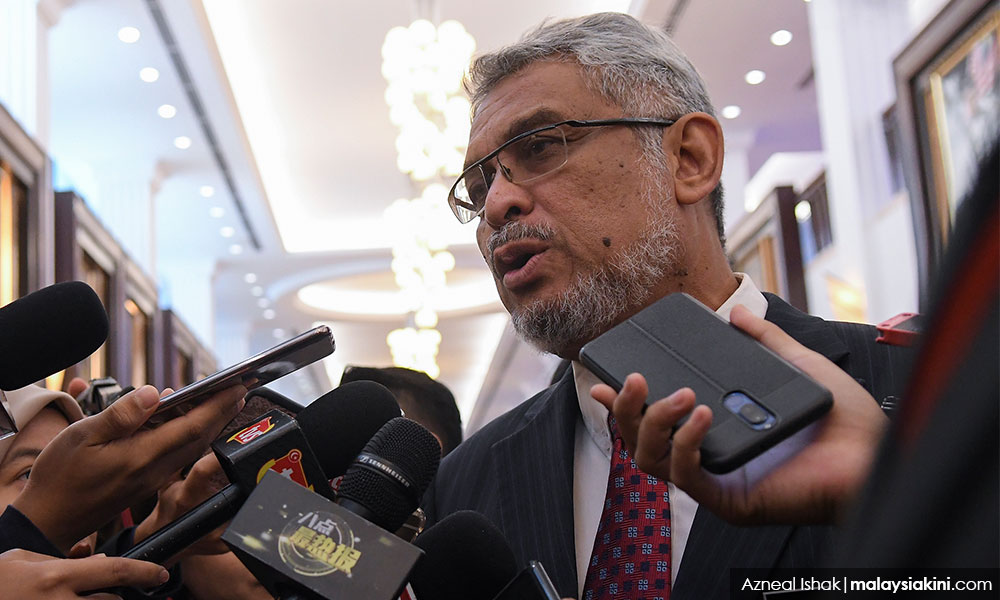 FT Minister Khalid Samad

Federal Territories Minister Khalid Samad said Malaysia cannot discount the possibility that a coup d'ètat can take place in the country if the Malays are "sufficiently influenced" to believe their position is in danger.

"Nothing is impossible."

"(This is) especially so as 70 percent of the population are Malays and if they are sufficiently influenced to believe that the position of Malays is in danger. As you know, the police and military are also fundamentally Malay-based institutions."

"So that is why it is very important for us to handle this issue with care," he told reporters at the Parliament lobby today."
I have to say I'm shocked Minister Khalid dares to say that a coup d'etat is possible in Malaysia just because the Malays (blamed again?) could defy democracy practised by our nation since its birth, just because of the moronic nonsense the Malays feel their position is in danger?
Yes, Malaysia has practised democracy, warts and all, since its birth in 1957 (and a bit earlier on a pilot plan, where
UMNO and MCA, joined subsequently by MIC, won convincing victories in local and state elections in both Malay and Chinese areas between 1952 and 1955).
When a man like K
halid Samad, MP for Shah Alam, talked about the possibility of a coup d'etat taking place in Malaysia to overthrow the Pakatan Harapan-elected government just because Malaysia's Malay population (at 70%), and the security service (police and military
also fundamentally Malay-based institutions
) feel they as an ethnic group may be
in danger, hasn't he (YB Khalid Samad) been talking cock and contradicting himself?
How can the majority of the population (70% of one race) with the police and military, virtually 97% of the same race (all armed to the teeth) feel threatened in their own country? And by whom?
go do it at kopitiam
Nations do not descend into undemocratic coup d'etat at their people's whims and fancies so don't talk cock by drawing in example of uni-ethnic Egypt.
Malaya and then Malaysia has never been like Egypt. Our politics have been grown from the Westminster model and nurtured as such, yes, even with warts and all. Nations such as ours, eg. NZ, Australia, India, even Sing, do not abandon democracy so easily.
Leaving out the former communist countries like Vietnam, Laos, Cambodia (Indochina),
just look around the region, Indonesia, Philippines, Thailand, Myanmar and tell me whether we have ever suffered any military coup d'etat as they had/have?
Why?
Because our nation, Malaya then Malaysia, has been brought up properly, first by the Brits and then by our founding fathers and early leaders. Like the great democracy India, our leaders have only suspended parliment once, and only temporarily, in May 1969. Parliament and democracy were resumed about a year later (16 months), on 22 September 1970
Indian suspension of parliment was from 25 June 1975 to 21 March 1977 (21 months), for same reason as Malaysia's suspension of parliament in May 1969, to wit, internal dissension
The only leader who went slightly to the edge of dictatorship, who mangled the Senate, Judiciary, Constitution, and various public institutions, etc etc etc, has been Mahathir, who again is the present PM, but even he (1981 to 2003) dared not go the full hog.
And the fact that he is once again the PM proves there has been democracy at work in Malaysia, always.
The fact that once-opposition Pakatan is now the ruling party
proves there has been democracy at work in Malaysia, always.

Instead of frightening the public as little kids with the ogre of a 'deep state', he should ask the police about this, as well as the real intention of the royals. If there is indeed a 'deep state', the police should be instructed to set about legally dismantling such a secret organisation.
'deep state' in Malaysia?
I find it difficult to believe HM Sultan of Johor has been clueless about the Rome Statute. What is His Majesty of
Darul Ta'zim
thinking and doing?
Has HM's problem been an issue of one-upmanship or dissatisfaction with Mahathir and not with the current government?
Was the alleged coup d'etat brought nearly to the boil to remove Mahathir per se?
Even then, coup d'etat is not in our Malaysian DNA.
Khalid Samad and other ministers, and even the PM, should stop talking about coup d'etat as if a coup is part and parcel of our democracy.