Malaysiakini -
Harapan's shortcomings could see Chinese votes falling short
:
Pakatan campaign still on a single issue, to wit, Najib

but he has been deposed nearly one year ago
SEMENYIH POLLS | The ongoing by-election is witnessing heavy campaigning in areas where 70 percent of the voters are Malays.
But in the three out of the 26 Chinese-majority polling districts, campaigning has been less intense. Here, over the past six days, political heavyweights were rarely seen out on the stump.
This imbalance in the campaign activities could be attributed to the fact that the majority of the Chinese are firmly behind Pakatan Harapan led by Dr Mahathir Mohamad.
A Merdeka Center survey showed that 95 percent of the Chinese voted for Harapan, compared with only 20 to 30 percent for Malays in the 2018 general election.
The five by-elections that took place in the nine months of Harapan's administration also showed a similar voting trend in Chinese votes.
While the Chinese in Semenyih are small in population - comprising only 16.8 percent of the total voters - they were significant in helping Harapan crush the BN fortress in Semenyih in the 2018 general election (GE14).
Take, for example, the Kampung Bahru Semenyih polling district. It has 3,211 voters, with 83 percent of them being Chinese. Close to 81 percent of the voters supported Harapan in GE14.
Growing distrust against Harapan
However, with the growing trust deficit against the Harapan administration due to Putrajaya's inability to honour its election promises and the row over academic credentials involving Harapan leaders, will the Chinese voters in Semenyih still firmly back Harapan?
A Vox Pop conducted by Malaysiakini found that the Chinese voters are divided in their support for Harapan.
Like many others in Kampung Bahru Semenyih, Mark Liew, who was happy with the services provided by MCA for decades, made a bold decision to vote for change in 2018.
Nine months later, the 52-year-old construction sub-contractor regretted his choice, citing the poor services and infrastructure maintenance in his birthplace, which have not been solved under the new government.
According to Liew, the potholes and fallen lampposts in the village have not been fixed even after numerous complaints have been made.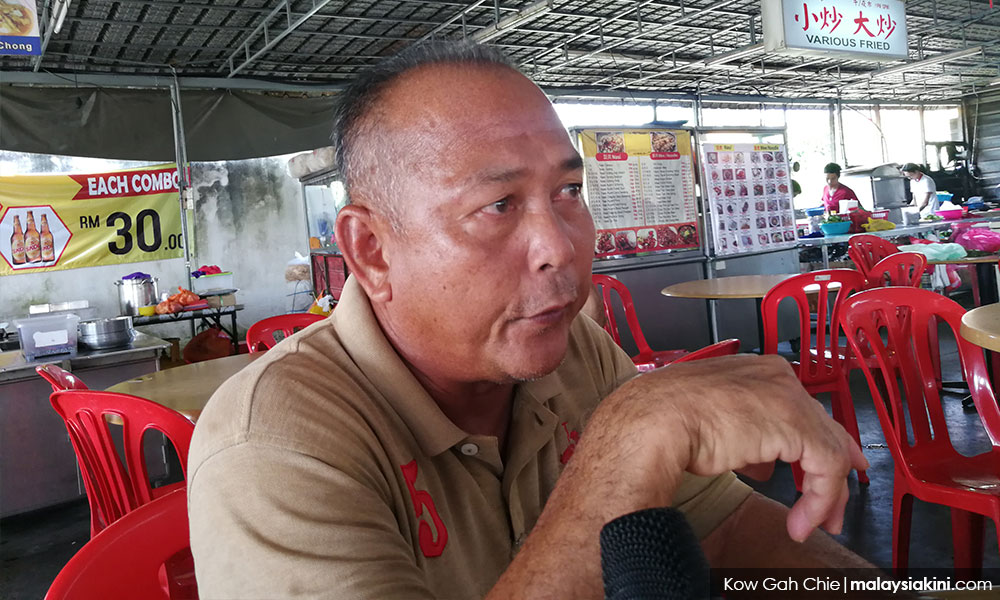 This would not have happened during BN's era, said Liew (photo).
"I felt sorry (that in return for voting for Harapan) the infrastructure in our homes has not been properly taken care of," he said.
Besides this, Liew is disappointed by all the local "politicking".
"There was a piece of land MCA had applied for and was given to some villagers. We (informally) called this place MCA Village, but now this village is suffering from lack of services and poor maintenance," he said.
He blamed the new village head for this, claiming that the latter is hardly seen providing services for the local people.
"I have not made up my mind (whom to vote for) but

most likely I will vote for BN this time

," Liew said.
Wong Yoke Foong and her sister Yoke Chun are undecided whom to vote for this time.
"It depends on my mood (how I am going to vote)," said Yoke Foong (photo), a 65-year-old rubber tapper who works on a six-acre rubber estate at Sungai Lalang.
"I have

hardly seen

the village head in the past year," she said, adding that she is not happy with the local authorities for neglecting Kampung Bahru.
Yoke Chun, a 64-year-old housewife, said she will only go to vote if she has the time.
"I have never seen the (late) state assemblyperson and the village head," she said.
She felt that the by-election is less important than the general election.
Clogged drains a problem
Chan Chee Cheng, 82, operator of a watch and jewellery shop in Pekan Semenyih, said he has not decided whom to vote for.
"I haven't made up mind, but it makes no difference as to whom I vote for," he said, adding that he voted for Harapan in 2018.
"Only when an election is called every five years you see the clogged drains cleaned up,"

he said.
According to him, the clogged drains had posed a problem to the surrounding commercial premises as water would overflow into the shops during heavy rain.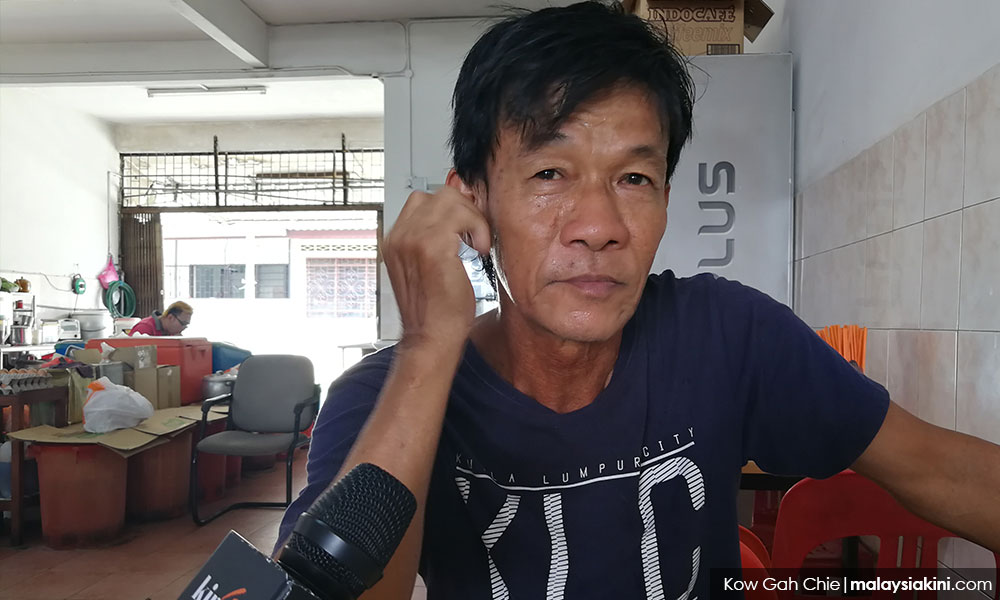 Hew Yoke Leong (photo), a 60-year-old renovation worker who resides at Semenyih Mewah, said he will cast his vote for Harapan in the March 2 by-election.
"I have been supporting the opposition all my life. No, I am not disappointed (with Harapan), they just took over one year ago," he said.
"The economy is bad and I am affected. You see, when a house costs RM500,000, buyers will not have much money for renovation," Hew said.
Loo Wee Keong, a 36-year-old electric appliance salesperson, said he will not participate in the by-election despite being a Harapan supporter.
He said he could understand that Harapan needs more time to fulfil its promises

but he could not accept the fact that the coalition is gradually turning into BN 2.0.
"I support Harapan,

but the problem is some Umno leaders have defected to join Harapan and turned the coalition into BN 2.0. I don't like it

," Loo (photo) said.
"I hope the prime minister will honour his word and (let PKR president Anwar Ibrahim) succeed him in two years. However, it appears that this may not happen,"

he said.
The people and parties in Harapan are not united, said Loo, who was born in Kampung Bahru Semenyih and later moved to Semenyih Mewah.
Ng, a 51-year-old foodstuff wholesaler who resides in Kampung Bahru Broga, said he would vote for Harapan.
"I will vote for Harapan, and so will my children. But two of my children who are working abroad will not come back to vote this time," he said.
He also noted the shortcomings of the nine-month-old Harapan government.
As a result, there is a split in the village where the elders, who are sympathetic to BN, are inclined to vote for BN this time while the younger people are leaning more towards Harapan, Ng (photo) said.
"We use to hang out at coffee shops to listen to the elders talk; they support BN because of the strong bond (with BN). But the younger people will mostly vote for Harapan," he said.
He said many people there are not happy with the poor services in the new village, which falls under the Tarun polling district - a 64 percent Chinese-majority area.
About 62 percent of the voters in Tarun voted for Harapan in GE14.
DAP, the party traditionally supported by Chinese, is in charge of Kampung Bahru Semenyih and co-ordinates with PKR in Kampung Bahru Broga (also in the Tarun polling district).
A DAP worker said the campaign team would disseminate election materials at the market and shoplots.
Kit Siang, Anwar expected this weekend
Party heavyweights like DAP veteran Lim Kit Siang and PKR president Anwar Ibrahim are expected to come to the Chinese area this weekend, the party worker said.
In BN, MCA leads the campaign in both Kampung Bahru Semenyih and Kampung Bahru Broga.
When contacted, Selangor MCA chief Ng Chok Sin said MCA was targeting party members and elder voters in the by-election.
"BN does set a high target for us. Our main strategy lies with the 1,600 MCA members in Semenyih. If we can get at least 10 percent of the members to vote for BN this time, then we would have achieved our target," Chok Sin said.
"We asked our members out for coffee and shared with them current issues, mainly the unfulfilled promises by Harapan," he said.
"We lost their votes because we have not contacted them for a long time," he said, adding that MCA workers would also conduct house-to-house campaigns.
Asked if MCA would ask former prime minister Najib Abdul Razak to campaign in the Chinese areas, he said Najib "is irrelevant".
Wakakaka